2021 Panini USA Baseball Stars and Stripes
Release Date: April 8, 2022
2021 Stars & Stripes returns to showcase some of the greatest baseball talent in the country from 13U to the Collegiate National Team!
---
ABOUT THIS PRODUCT
2021 Panini USA Baseball Stars and Stripes
Each year USA Baseball secures the top talent to represent the nation in international competition. This is showcased every year in the July draft where numerous players are selected in the first few rounds!
Look for autographs from the current Collegiate National Team and 18U National Team with rare Blue, Red and Green ink parallels!
USA Stars & Stripes features a variety of exclusive memorabilia and players, many of whom this will be their first certified card or autograph on the market!
Look for 5 autographs or memorabilia cards per box, on average.
AUTOGRAPHS
Every year Stars & Stripes Baseball is filled with future draft and collegiate stars, and 2021 is no different. Look for autos from each age group from the National Development Program through Collegiate!
18U NATIONAL TEAM                   CNT SIGNATURES                   NATIONAL TEAM DEV. PROGRAM
SIGNATURES RED INK                  BLACK INK                                   SIGNATURES GREEN INK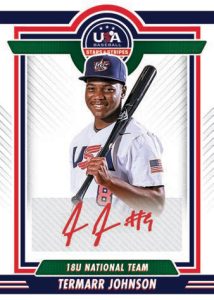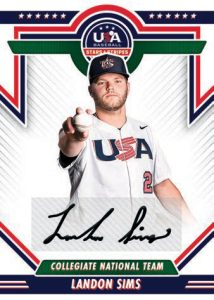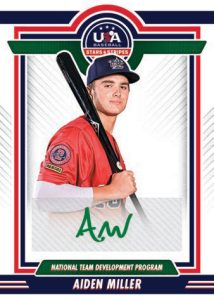 BASE
The Base set features three current USA Baseball national teams: Collegiate, 18U and 15U.
USA BB ALUMNI SIGNATURES BLUE INK
This 8-card set pays homage to some of the most distinguished players to put on the USA Baseball uniform!
WHAMMY
With a checklist full of former USA Baseball greats and Hall of Famers, hunt for the ultra rare insert Whammy.
PLAYER MEMORABILIA SWATCHES 
Franchise Legends Signatures, a star-studded autograph set that features some of the biggest names in NFL History!
STARS & STRIPES PRIME                  USA BB MATERIALS                 USA BB SILHOUETTES
SIGNATURES                                            HOLO BLUE                                   SIGNATURES PRIME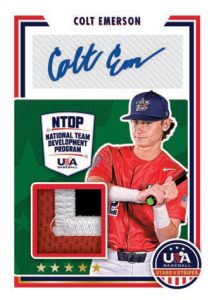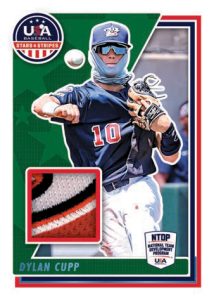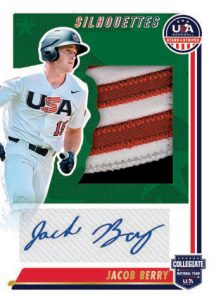 HOBBY CONFIGURATION
8 CARDS PER PACK
5 PACKS PER BOX
20 BOXES PER CASE
BOX BREAK
5 AUTOGRAPHS OR MEMORABILIA
30 BASE CARDS
5 PARALLELS
Autograph
15U National Team Signatures Blue Ink
18U National Team Signatures Blue Ink
Athlete Development Program Signatures
National Team Development Program Signatures
Stars and Stripes Signatures
USA BB Alumni Signatures Blue Ink
USA BB Silhouettes Signatures Bats
USA BB Silhouettes Signatures Jerseys
Base
| | | | |
| --- | --- | --- | --- |
| # | Player | Team | |
| 1 | Hunter Barco | USA Baseball Collegiate National Team | |
| 2 | Dylan Beavers | USA Baseball Collegiate National Team | |
| 3 | Jacob Berry | USA Baseball Collegiate National Team | |
| 4 | Justin Campbell | USA Baseball Collegiate National Team | |
| 5 | Reggie Crawford | USA Baseball Collegiate National Team | |
| 6 | Dylan Crews | USA Baseball Collegiate National Team | |
| 7 | Gavin Cross | USA Baseball Collegiate National Team | |
| 8 | Hayden Dunhurst | USA Baseball Collegiate National Team | |
| 9 | Jackson Fristoe | USA Baseball Collegiate National Team | |
| 10 | Drew Gilbert | USA Baseball Collegiate National Team | |
| 11 | Devereaux Harrison | USA Baseball Collegiate National Team | |
| 12 | Brooks Lee | USA Baseball Collegiate National Team | |
| 13 | Caden Grice | USA Baseball Collegiate National Team | |
| 14 | Gabriel Hughes | USA Baseball Collegiate National Team | |
| 15 | Brock Jones | USA Baseball Collegiate National Team | |
| 16 | Jace Jung | USA Baseball Collegiate National Team | |
| 17 | Brooks Lee | USA Baseball Collegiate National Team | |
| 18 | Ethan Long | USA Baseball Collegiate National Team | |
| 19 | Daniel Susac | USA Baseball Collegiate National Team | |
| 20 | Sean McLain | USA Baseball Collegiate National Team | |
| 21 | Parker Messick | USA Baseball Collegiate National Team | |
| 22 | Robert Moore | USA Baseball Collegiate National Team | |
| 23 | Aaron Nixon | USA Baseball Collegiate National Team | |
| 24 | Carson Palmquist | USA Baseball Collegiate National Team | |
| 25 | Kevin Parada | USA Baseball Collegiate National Team | |
| 26 | Will Sanders | USA Baseball Collegiate National Team | |
| 27 | Nate Savino | USA Baseball Collegiate National Team | |
| 28 | Landon Sims | USA Baseball Collegiate National Team | |
| 29 | Brock Jones | USA Baseball Collegiate National Team | |
| 30 | Jordan Sprinkle | USA Baseball Collegiate National Team | |
| 31 | Brandon Sproat | USA Baseball Collegiate National Team | |
| 32 | Adam Stone | USA Baseball Collegiate National Team | |
| 33 | Logan Tanner | USA Baseball Collegiate National Team | |
| 34 | Kyle Teel | USA Baseball Collegiate National Team | |
| 35 | Drew Thorpe | USA Baseball Collegiate National Team | |
| 36 | Carter Trice | USA Baseball Collegiate National Team | |
| 37 | Jack Washburn | USA Baseball Collegiate National Team | |
| 38 | Carson Whisenhunt | USA Baseball Collegiate National Team | |
| 39 | Josh White | USA Baseball Collegiate National Team | |
| 40 | Jaxon Wiggins | USA Baseball Collegiate National Team | |
| 41 | Tanner Witt | USA Baseball Collegiate National Team | |
| 42 | Matthew Wyatt | USA Baseball Collegiate National Team | |
| 43 | Samuel Highfill | USA Baseball Collegiate National Team | |
| 44 | Gavin Cross | USA Baseball Collegiate National Team | |
| 45 | Christopher Villaman | USA Baseball Collegiate National Team | |
| 46 | Cole Kirschsieper | USA Baseball Collegiate National Team | |
| 47 | Joe Allen | USA Baseball 18U National Team | |
| 48 | RJ Austin | USA Baseball 18U National Team | |
| 49 | Riley Stanford | USA Baseball 18U National Team | |
| 50 | Karson Bowen | USA Baseball 18U National Team | |
| 51 | Ryan Clifford | USA Baseball 18U National Team | |
| 52 | Andrew Dutkanych | USA Baseball 18U National Team | |
| 53 | Jackson Ferris | USA Baseball 18U National Team | |
| 54 | Cade Fisher | USA Baseball 18U National Team | |
| 55 | Elijah Green | USA Baseball 18U National Team | |
| 56 | Andrew Dutkanych | USA Baseball 18U National Team | |
| 57 | Jackson Holliday | USA Baseball 18U National Team | |
| 58 | Jayden Hylton | USA Baseball 18U National Team | |
| 59 | Termarr Johnson | USA Baseball 18U National Team | |
| 60 | Druw Jones | USA Baseball 18U National Team | |
| 61 | Druw Jones | USA Baseball 18U National Team | |
| 62 | Paxton Kling | USA Baseball 18U National Team | |
| 63 | Owen Murphy | USA Baseball 18U National Team | |
| 64 | Jack O'Connor | USA Baseball 18U National Team | |
| 65 | Louis Rodriguez | USA Baseball 18U National Team | |
| 66 | Oliver Santos | USA Baseball 18U National Team | |
| 67 | Brennan Phillips | USA Baseball 18U National Team | |
| 68 | Blake Mitchell | USA Baseball 18U National Team | |
| 69 | Jackson Holliday | USA Baseball 18U National Team | |
| 70 | Michael Kennedy | USA Baseball 18U National Team | |
| 71 | Walker Jenkins | USA Baseball 18U National Team | |
| 72 | Walter Ford | USA Baseball 18U National Team | |
| 73 | Henry Allen | USA Baseball 15U National Team | |
| 74 | Tristan Bristow | USA Baseball 15U National Team | |
| 75 | Slade Caldwell | USA Baseball 15U National Team | |
| 76 | Masa Chilcutt | USA Baseball 15U National Team | |
| 77 | Jase DeSantis | USA Baseball 15U National Team | |
| 78 | Konnor Griffin | USA Baseball 15U National Team | |
| 79 | Cal Miller | USA Baseball 15U National Team | |
| 80 | Austin Nye | USA Baseball 15U National Team | |
| 81 | Carson Page | USA Baseball 15U National Team | |
| 82 | Ethan Puig | USA Baseball 15U National Team | |
| 83 | Mason Russell | USA Baseball 15U National Team | |
| 84 | Ethan Schiefelbein | USA Baseball 15U National Team | |
| 85 | Joshua Springer | USA Baseball 15U National Team | |
| 86 | Michael Torres | USA Baseball 15U National Team | |
| 87 | Nolan Traeger | USA Baseball 15U National Team | |
| 88 | George Wolkow | USA Baseball 15U National Team | |
| 89 | Carson Messina | USA Baseball 15U National Team | |
| 90 | Henry Phifer | USA Baseball 15U National Team | |
| 91 | Zach Strickland | USA Baseball 15U National Team | |
| 92 | Ryan McPherson | USA Baseball 15U National Team | |
| 93 | Elijah Green | USA Baseball 18U National Team | |
| 94 | Jacob Berry | USA Baseball Collegiate National Team | |
| 95 | Jackson Ferris | USA Baseball 18U National Team | |
| 96 | Termarr Johnson | USA Baseball 18U National Team | |
| 97 | Jace Jung | USA Baseball Collegiate National Team | |
Checklist
| | | | |
| --- | --- | --- | --- |
| # | Player | Team | |
| 98 | USA Baseball Collegiate National Team | USA Baseball Collegiate National Team | |
| 99 | USA Baseball 18U National Team | USA Baseball 18U National Team | |
| 100 | USA Baseball 15U National Team Trials | USA Baseball 15U National Team | |
18U National Team Signatures Blue Ink
| | | | |
| --- | --- | --- | --- |
| # | Player | Team | |
| 1 | Joe Allen | USA Baseball 18U National Team | |
| 2 | RJ Austin | USA Baseball 18U National Team | |
| 3 | Riley Stanford | USA Baseball 18U National Team | |
| 4 | Karson Bowen | USA Baseball 18U National Team | |
| 5 | Ryan Clifford | USA Baseball 18U National Team | |
| 6 | Andrew Dutkanych | USA Baseball 18U National Team | |
| 7 | Jackson Ferris | USA Baseball 18U National Team | |
| 8 | Cade Fisher | USA Baseball 18U National Team | |
| 9 | Elijah Green | USA Baseball 18U National Team | |
| 10 | Andrew Dutkanych | USA Baseball 18U National Team | |
| 11 | Jackson Holliday | USA Baseball 18U National Team | |
| 12 | Jayden Hylton | USA Baseball 18U National Team | |
| 13 | Termarr Johnson | USA Baseball 18U National Team | |
| 14 | Druw Jones | USA Baseball 18U National Team | |
| 15 | Elijah Green | USA Baseball 18U National Team | |
| 16 | Paxton Kling | USA Baseball 18U National Team | |
| 17 | Owen Murphy | USA Baseball 18U National Team | |
| 18 | Jack O'Connor | USA Baseball 18U National Team | |
| 19 | Louis Rodriguez | USA Baseball 18U National Team | |
| 20 | Oliver Santos | USA Baseball 18U National Team | |
| 21 | Brennan Phillips | USA Baseball 18U National Team | |
| 22 | Blake Mitchell | USA Baseball 18U National Team | |
| 23 | Jackson Holliday | USA Baseball 18U National Team | |
| 24 | Michael Kennedy | USA Baseball 18U National Team | |
| 25 | Walker Jenkins | USA Baseball 18U National Team | |
| 26 | Walter Ford | USA Baseball 18U National Team | |
USA BB Silhouettes Signatures Bats
| | | | |
| --- | --- | --- | --- |
| # | Player | Team | |
| 2 | Dylan Beavers | USA Baseball Collegiate National Team | |
| 3 | Jacob Berry | USA Baseball Collegiate National Team | |
| 5 | Reggie Crawford | USA Baseball Collegiate National Team | |
| 8 | Hayden Dunhurst | USA Baseball Collegiate National Team | |
| 10 | Drew Gilbert | USA Baseball Collegiate National Team | |
| 12 | Jacob Berry | USA Baseball Collegiate National Team | |
| 13 | Caden Grice | USA Baseball Collegiate National Team | |
| 15 | Brock Jones | USA Baseball Collegiate National Team | |
| 17 | Brooks Lee | USA Baseball Collegiate National Team | |
| 18 | Ethan Long | USA Baseball Collegiate National Team | |
| 19 | Daniel Susac | USA Baseball Collegiate National Team | |
| 22 | Robert Moore | USA Baseball Collegiate National Team | |
| 25 | Kevin Parada | USA Baseball Collegiate National Team | |
| 29 | Brooks Lee | USA Baseball Collegiate National Team | |
| 30 | Jordan Sprinkle | USA Baseball Collegiate National Team | |
| 33 | Logan Tanner | USA Baseball Collegiate National Team | |
| 34 | Kyle Teel | USA Baseball Collegiate National Team | |
| 36 | Carter Trice | USA Baseball Collegiate National Team | |
| 48 | RJ Austin | USA Baseball 18U National Team | |
| 49 | Riley Stanford | USA Baseball 18U National Team | |
| 50 | Karson Bowen | USA Baseball 18U National Team | |
| 51 | Ryan Clifford | USA Baseball 18U National Team | |
| 55 | Elijah Green | USA Baseball 18U National Team | |
| 57 | Jackson Holliday | USA Baseball 18U National Team | |
| 58 | Jayden Hylton | USA Baseball 18U National Team | |
| 59 | Termarr Johnson | USA Baseball 18U National Team | |
| 60 | Druw Jones | USA Baseball 18U National Team | |
| 61 | Termarr Johnson | USA Baseball 18U National Team | |
| 62 | Paxton Kling | USA Baseball 18U National Team | |
| 63 | Owen Murphy | USA Baseball 18U National Team | |
| 68 | Blake Mitchell | USA Baseball 18U National Team | |
| 69 | Jackson Holliday | USA Baseball 18U National Team | |
| 71 | Walker Jenkins | USA Baseball 18U National Team | |
| 96 | Austin Martin | USA Baseball Collegiate National Team | |
| 97 | CJ Abrams | USA Baseball 18U National Team | |
USA BB Silhouettes Signatures Jerseys
| | | | |
| --- | --- | --- | --- |
| # | Player | Team | |
| 1 | Hunter Barco | USA Baseball Collegiate National Team | |
| 2 | Dylan Beavers | USA Baseball Collegiate National Team | |
| 3 | Jacob Berry | USA Baseball Collegiate National Team | |
| 4 | Justin Campbell | USA Baseball Collegiate National Team | |
| 5 | Reggie Crawford | USA Baseball Collegiate National Team | |
| 6 | Dylan Crews | USA Baseball Collegiate National Team | |
| 7 | Gavin Cross | USA Baseball Collegiate National Team | |
| 8 | Hayden Dunhurst | USA Baseball Collegiate National Team | |
| 9 | Jackson Fristoe | USA Baseball Collegiate National Team | |
| 10 | Drew Gilbert | USA Baseball Collegiate National Team | |
| 11 | Devereaux Harrison | USA Baseball Collegiate National Team | |
| 12 | Jacob Berry | USA Baseball Collegiate National Team | |
| 13 | Caden Grice | USA Baseball Collegiate National Team | |
| 14 | Gabriel Hughes | USA Baseball Collegiate National Team | |
| 15 | Brock Jones | USA Baseball Collegiate National Team | |
| 16 | Jace Jung | USA Baseball Collegiate National Team | |
| 17 | Brooks Lee | USA Baseball Collegiate National Team | |
| 18 | Ethan Long | USA Baseball Collegiate National Team | |
| 19 | Daniel Susac | USA Baseball Collegiate National Team | |
| 20 | Sean McLain | USA Baseball Collegiate National Team | |
| 21 | Parker Messick | USA Baseball Collegiate National Team | |
| 22 | Robert Moore | USA Baseball Collegiate National Team | |
| 23 | Aaron Nixon | USA Baseball Collegiate National Team | |
| 24 | Carson Palmquist | USA Baseball Collegiate National Team | |
| 25 | Kevin Parada | USA Baseball Collegiate National Team | |
| 26 | Will Sanders | USA Baseball Collegiate National Team | |
| 27 | Nate Savino | USA Baseball Collegiate National Team | |
| 28 | Landon Sims | USA Baseball Collegiate National Team | |
| 29 | Brooks Lee | USA Baseball Collegiate National Team | |
| 30 | Jordan Sprinkle | USA Baseball Collegiate National Team | |
| 31 | Brandon Sproat | USA Baseball Collegiate National Team | |
| 32 | Adam Stone | USA Baseball Collegiate National Team | |
| 33 | Logan Tanner | USA Baseball Collegiate National Team | |
| 34 | Kyle Teel | USA Baseball Collegiate National Team | |
| 35 | Drew Thorpe | USA Baseball Collegiate National Team | |
| 36 | Carter Trice | USA Baseball Collegiate National Team | |
| 37 | Jack Washburn | USA Baseball Collegiate National Team | |
| 38 | Carson Whisenhunt | USA Baseball Collegiate National Team | |
| 39 | Josh White | USA Baseball Collegiate National Team | |
| 40 | Jaxon Wiggins | USA Baseball Collegiate National Team | |
| 41 | Tanner Witt | USA Baseball Collegiate National Team | |
| 42 | Matthew Wyatt | USA Baseball Collegiate National Team | |
| 43 | Samuel Highfill | USA Baseball Collegiate National Team | |
| 44 | Gavin Cross | USA Baseball Collegiate National Team | |
| 45 | Christopher Villaman | USA Baseball Collegiate National Team | |
| 46 | Cole Kirschsieper | USA Baseball Collegiate National Team | |
| 47 | Joe Allen | USA Baseball 18U National Team | |
| 48 | RJ Austin | USA Baseball 18U National Team | |
| 49 | Riley Stanford | USA Baseball 18U National Team | |
| 50 | Karson Bowen | USA Baseball 18U National Team | |
| 51 | Ryan Clifford | USA Baseball 18U National Team | |
| 52 | Andrew Dutkanych | USA Baseball 18U National Team | |
| 53 | Jackson Ferris | USA Baseball 18U National Team | |
| 54 | Cade Fisher | USA Baseball 18U National Team | |
| 55 | Elijah Green | USA Baseball 18U National Team | |
| 56 | Andrew Dutkanych | USA Baseball 18U National Team | |
| 57 | Jackson Holliday | USA Baseball 18U National Team | |
| 58 | Jayden Hylton | USA Baseball 18U National Team | |
| 59 | Termarr Johnson | USA Baseball 18U National Team | |
| 60 | Druw Jones | USA Baseball 18U National Team | |
| 61 | Termarr Johnson | USA Baseball 18U National Team | |
| 62 | Paxton Kling | USA Baseball 18U National Team | |
| 63 | Owen Murphy | USA Baseball 18U National Team | |
| 64 | Jack O'Connor | USA Baseball 18U National Team | |
| 65 | Louis Rodriguez | USA Baseball 18U National Team | |
| 66 | Oliver Santos | USA Baseball 18U National Team | |
| 67 | Brennan Phillips | USA Baseball 18U National Team | |
| 68 | Blake Mitchell | USA Baseball 18U National Team | |
| 69 | Jackson Holliday | USA Baseball 18U National Team | |
| 70 | Michael Kennedy | USA Baseball 18U National Team | |
| 71 | Walker Jenkins | USA Baseball 18U National Team | |
| 72 | Walter Ford | USA Baseball 18U National Team | |
| 73 | Henry Allen | USA Baseball 15U National Team | |
| 74 | Tristan Bristow | USA Baseball 15U National Team | |
| 75 | Slade Caldwell | USA Baseball 15U National Team | |
| 76 | Masa Chilcutt | USA Baseball 15U National Team | |
| 77 | Jase DeSantis | USA Baseball 15U National Team | |
| 78 | Konnor Griffin | USA Baseball 15U National Team | |
| 79 | Cal Miller | USA Baseball 15U National Team | |
| 80 | Austin Nye | USA Baseball 15U National Team | |
| 81 | Carson Page | USA Baseball 15U National Team | |
| 82 | Ethan Puig | USA Baseball 15U National Team | |
| 83 | Mason Russell | USA Baseball 15U National Team | |
| 84 | Ethan Schiefelbein | USA Baseball 15U National Team | |
| 85 | Joshua Springer | USA Baseball 15U National Team | |
| 86 | Michael Torres | USA Baseball 15U National Team | |
| 87 | Nolan Traeger | USA Baseball 15U National Team | |
| 88 | George Wolkow | USA Baseball 15U National Team | |
| 89 | Carson Messina | USA Baseball 15U National Team | |
| 90 | Henry Phifer | USA Baseball 15U National Team | |
| 91 | Zach Strickland | USA Baseball 15U National Team | |
| 92 | Ryan McPherson | USA Baseball 15U National Team | |
| 93 | Titan Targac | USA Baseball 15U National Team | |
| 94 | Xavier Neyens | USA Baseball 15U National Team | |
| 95 | Kumar Rocker | USA Baseball 18U National Team | |
| 96 | Austin Martin | USA Baseball Collegiate National Team | |
| 97 | CJ Abrams | USA Baseball 18U National Team | |
| 98 | Max Meyer | USA Baseball Collegiate National Team | |
| 99 | Brady House | USA Baseball 15U National Team | |
| 100 | Austin Hendrick | USA Baseball 18U National Team | |
National Team Development Program Signatures
| | | | |
| --- | --- | --- | --- |
| # | Player | Team | |
| 1 | Zach Anderson | National Team Development Program | |
| 2 | Theodore Gillen | National Team Development Program | |
| 3 | Blake Balsz | National Team Development Program | |
| 4 | Eric Bitonti | National Team Development Program | |
| 5 | Matthew Champion | National Team Development Program | |
| 6 | Maxwell Clark | National Team Development Program | |
| 7 | Steven Milam | National Team Development Program | |
| 8 | Chance Mako | National Team Development Program | |
| 9 | Dylan Cupp | National Team Development Program | |
| 10 | Derek Curiel | National Team Development Program | |
| 11 | Dean Curley | National Team Development Program | |
| 12 | Daniel Cuvet | National Team Development Program | |
| 13 | Sebastian David | National Team Development Program | |
| 14 | Owen Egan | National Team Development Program | |
| 15 | Bryce Eldridge | National Team Development Program | |
| 16 | Colt Emerson | National Team Development Program | |
| 17 | Walter Ford | National Team Development Program | |
| 18 | Theodore Gillen | National Team Development Program | |
| 19 | Gavin Grahovac | National Team Development Program | |
| 20 | Adam Hachman | National Team Development Program | |
| 21 | James Hays | National Team Development Program | |
| 22 | Ryder Helfrick | National Team Development Program | |
| 23 | Braden Holcomb | National Team Development Program | |
| 24 | Walker Jenkins | National Team Development Program | |
| 25 | Justin Lee | National Team Development Program | |
| 26 | Adrian Lopez | National Team Development Program | |
| 27 | Wes Mendes | National Team Development Program | |
| 28 | Aidan Miller | National Team Development Program | |
| 29 | Blake Mitchell | National Team Development Program | |
| 30 | Bryson Moore | National Team Development Program | |
| 31 | Michael Mullinax | National Team Development Program | |
| 32 | Liam Peterson | National Team Development Program | |
| 33 | Bryce Rainer | National Team Development Program | |
| 34 | Christian Rodriguez | National Team Development Program | |
| 35 | Austen Roellig | National Team Development Program | |
| 36 | Nathan Rogalski | National Team Development Program | |
| 37 | Cole Schoenwetter | National Team Development Program | |
| 38 | Drew Sofield | National Team Development Program | |
| 39 | Ryan Speshyock | National Team Development Program | |
| 40 | Cale Stricklin | National Team Development Program | |
| 41 | Landon Stump | National Team Development Program | |
| 42 | Travis Sykora | National Team Development Program | |
| 43 | TayShaun Walton | National Team Development Program | |
Stars and Stripes Signatures
| | | | |
| --- | --- | --- | --- |
| # | Player | Team | |
| 1 | Dillon Adkins | Athlete Development Program | |
| 2 | Evan Amos | Athlete Development Program | |
| 3 | Hayden George | Athlete Development Program | |
| 4 | Wyatt Bauer | Athlete Development Program | |
| 5 | Lincoln Boyle | Athlete Development Program | |
| 6 | Riley Brown | Athlete Development Program | |
| 7 | Trevor Busby | Athlete Development Program | |
| 8 | Landon Carter | Athlete Development Program | |
| 9 | Bubba Coleman | Athlete Development Program | |
| 10 | Tristan Dalzell | Athlete Development Program | |
| 11 | Brady Ebel | Athlete Development Program | |
| 12 | Gavin Fien | Athlete Development Program | |
| 13 | Dean Hannah | Athlete Development Program | |
| 14 | Josiah Hartshorn | Athlete Development Program | |
| 15 | Ryan Harwood | Athlete Development Program | |
| 16 | Rashad Hayes | Athlete Development Program | |
| 17 | Isaiah Ibarra | Athlete Development Program | |
| 18 | Donavan Jeffrey | Athlete Development Program | |
| 19 | Tayden-Evan Kaawa | Athlete Development Program | |
| 20 | Jaiden Lo Re | Athlete Development Program | |
| 21 | Jack McKernan | Athlete Development Program | |
| 22 | Brady Murrietta | Athlete Development Program | |
| 23 | Luke Pappano | Athlete Development Program | |
| 24 | Kalub Ramirez | Athlete Development Program | |
| 25 | Kaden Robardey | Athlete Development Program | |
| 26 | Kevin Roberts Jr. | Athlete Development Program | |
| 27 | Kruz Schoolcraft | Athlete Development Program | |
| 28 | Miles Scott | Athlete Development Program | |
| 29 | Sebastian Segura | Athlete Development Program | |
| 30 | Colt Springall | Athlete Development Program | |
| 31 | Jayden Stroman | Athlete Development Program | |
| 32 | Titan Targac | Athlete Development Program | |
| 33 | Nikko Taylor | Athlete Development Program | |
| 34 | James Tronstein | Athlete Development Program | |
| 35 | Mateo Villanueva | Athlete Development Program | |
| 36 | CJ Weinstein | Athlete Development Program | |
| 37 | Quentin Young | Athlete Development Program | |
| 38 | Dylan Minnatee | Athlete Development Program | |
| 39 | Ryan Speshyock | National Team Development Program | |
| 40 | Cale Stricklin | National Team Development Program | |
| 41 | Landon Stump | National Team Development Program | |
| 42 | Travis Sykora | National Team Development Program | |
| 43 | TayShaun Walton | National Team Development Program | |
| 44 | Bryce Eldridge | National Team Development Program | |
| 45 | Zach Anderson | National Team Development Program | |
| 46 | Coy James | Athlete Development Program | |
| 47 | Blake Balsz | National Team Development Program | |
| 48 | Eric Bitonti | National Team Development Program | |
| 49 | Matthew Champion | National Team Development Program | |
| 50 | Maxwell Clark | National Team Development Program | |
| 51 | Steven Milam | National Team Development Program | |
| 52 | Chance Mako | National Team Development Program | |
| 53 | Dylan Cupp | National Team Development Program | |
| 54 | Derek Curiel | National Team Development Program | |
| 55 | Dean Curley | National Team Development Program | |
| 56 | Daniel Cuvet | National Team Development Program | |
| 57 | Sebastian David | National Team Development Program | |
| 58 | Owen Egan | National Team Development Program | |
| 59 | Colt Emerson | National Team Development Program | |
| 60 | Walter Ford | National Team Development Program | |
| 61 | Theodore Gillen | National Team Development Program | |
| 62 | Adam Hachman | National Team Development Program | |
| 63 | Gavin Grahovac | National Team Development Program | |
| 64 | James Hays | National Team Development Program | |
| 65 | Ryder Helfrick | National Team Development Program | |
| 66 | Braden Holcomb | National Team Development Program | |
| 67 | Walker Jenkins | National Team Development Program | |
| 68 | Justin Lee | National Team Development Program | |
| 69 | Adrian Lopez | National Team Development Program | |
| 70 | Wes Mendes | National Team Development Program | |
| 71 | Aidan Miller | National Team Development Program | |
| 72 | Blake Mitchell | National Team Development Program | |
| 73 | Bryson Moore | National Team Development Program | |
| 74 | Michael Mullinax | National Team Development Program | |
| 75 | Liam Peterson | National Team Development Program | |
| 76 | Bryce Rainer | National Team Development Program | |
| 77 | Christian Rodriguez | National Team Development Program | |
| 78 | Austen Roellig | National Team Development Program | |
| 80 | Cole Schoenwetter | National Team Development Program | |
| 81 | Drew Sofield | National Team Development Program | |
| 82 | Aiden Harris | USA Baseball 15U National Team | |
| 83 | Brady Ebel | USA Baseball 15U National Team | |
| 84 | Braeden Weckman | USA Baseball 15U National Team | |
| 85 | Cameron Uzzillia | USA Baseball 15U National Team | |
| 86 | Cannon Goldin | USA Baseball 15U National Team | |
| 87 | Coy Allman | USA Baseball 15U National Team | |
| 88 | Dean Hannah | USA Baseball 15U National Team | |
| 89 | Dean Moss | USA Baseball 15U National Team | |
| 90 | Dillon Adkins | USA Baseball 15U National Team | |
| 91 | Dylan Franco | USA Baseball 15U National Team | |
| 92 | Everett Johnson | USA Baseball 15U National Team | |
| 93 | Gavin Fien | USA Baseball 15U National Team | |
| 94 | Gerardo Gonzalez | USA Baseball 15U National Team | |
| 95 | Jack McKernan | USA Baseball 15U National Team | |
| 96 | JD Crisp | USA Baseball 15U National Team | |
| 97 | John Lash | USA Baseball 15U National Team | |
| 98 | Kailand Halstead | USA Baseball 15U National Team | |
| 99 | Luke Oblen | USA Baseball 15U National Team | |
| 100 | Riley Brown | USA Baseball 15U National Team | |
CNT Signatures Blue Ink
| | | | |
| --- | --- | --- | --- |
| # | Player | Team | |
| 1 | Hunter Barco | USA Baseball Collegiate National Team | |
| 2 | Dylan Beavers | USA Baseball Collegiate National Team | |
| 3 | Jacob Berry | USA Baseball Collegiate National Team | |
| 4 | Justin Campbell | USA Baseball Collegiate National Team | |
| 5 | Reggie Crawford | USA Baseball Collegiate National Team | |
| 6 | Dylan Crews | USA Baseball Collegiate National Team | |
| 7 | Gavin Cross | USA Baseball Collegiate National Team | |
| 8 | Hayden Dunhurst | USA Baseball Collegiate National Team | |
| 9 | Jackson Fristoe | USA Baseball Collegiate National Team | |
| 10 | Drew Gilbert | USA Baseball Collegiate National Team | |
| 11 | Devereaux Harrison | USA Baseball Collegiate National Team | |
| 12 | Jace Jung | USA Baseball Collegiate National Team | |
| 13 | Caden Grice | USA Baseball Collegiate National Team | |
| 14 | Gabriel Hughes | USA Baseball Collegiate National Team | |
| 15 | Brock Jones | USA Baseball Collegiate National Team | |
| 16 | Jace Jung | USA Baseball Collegiate National Team | |
| 17 | Brooks Lee | USA Baseball Collegiate National Team | |
| 18 | Ethan Long | USA Baseball Collegiate National Team | |
| 19 | Daniel Susac | USA Baseball Collegiate National Team | |
| 20 | Sean McLain | USA Baseball Collegiate National Team | |
| 21 | Parker Messick | USA Baseball Collegiate National Team | |
| 22 | Robert Moore | USA Baseball Collegiate National Team | |
| 23 | Aaron Nixon | USA Baseball Collegiate National Team | |
| 24 | Carson Palmquist | USA Baseball Collegiate National Team | |
| 25 | Kevin Parada | USA Baseball Collegiate National Team | |
| 26 | Will Sanders | USA Baseball Collegiate National Team | |
| 27 | Nate Savino | USA Baseball Collegiate National Team | |
| 28 | Landon Sims | USA Baseball Collegiate National Team | |
| 29 | Brock Jones | USA Baseball Collegiate National Team | |
| 30 | Jordan Sprinkle | USA Baseball Collegiate National Team | |
| 31 | Brandon Sproat | USA Baseball Collegiate National Team | |
| 32 | Adam Stone | USA Baseball Collegiate National Team | |
| 33 | Logan Tanner | USA Baseball Collegiate National Team | |
| 34 | Kyle Teel | USA Baseball Collegiate National Team | |
| 35 | Drew Thorpe | USA Baseball Collegiate National Team | |
| 36 | Carter Trice | USA Baseball Collegiate National Team | |
| 37 | Jack Washburn | USA Baseball Collegiate National Team | |
| 38 | Carson Whisenhunt | USA Baseball Collegiate National Team | |
| 39 | Josh White | USA Baseball Collegiate National Team | |
| 40 | Jaxon Wiggins | USA Baseball Collegiate National Team | |
| 41 | Tanner Witt | USA Baseball Collegiate National Team | |
| 42 | Matthew Wyatt | USA Baseball Collegiate National Team | |
| 43 | Samuel Highfill | USA Baseball Collegiate National Team | |
| 44 | Gavin Cross | USA Baseball Collegiate National Team | |
| 45 | Christopher Villaman | USA Baseball Collegiate National Team | |
| 46 | Cole Kirschsieper | USA Baseball Collegiate National Team | |
Athlete Development Program Signatures
| | | | |
| --- | --- | --- | --- |
| # | Player | Team | |
| 1 | Dillon Adkins | Athlete Development Program | |
| 2 | Evan Amos | Athlete Development Program | |
| 3 | Wyatt Bauer | Athlete Development Program | |
| 4 | Lincoln Boyle | Athlete Development Program | |
| 5 | Riley Brown | Athlete Development Program | |
| 6 | Trevor Busby | Athlete Development Program | |
| 7 | Landon Carter | Athlete Development Program | |
| 8 | Bubba Coleman | Athlete Development Program | |
| 9 | Tristan Dalzell | Athlete Development Program | |
| 10 | Brady Ebel | Athlete Development Program | |
| 11 | Gavin Fien | Athlete Development Program | |
| 12 | Hayden George | Athlete Development Program | |
| 13 | Dean Hannah | Athlete Development Program | |
| 14 | Josiah Hartshorn | Athlete Development Program | |
| 15 | Ryan Harwood | Athlete Development Program | |
| 16 | Rashad Hayes | Athlete Development Program | |
| 17 | Isaiah Ibarra | Athlete Development Program | |
| 18 | Donavan Jeffrey | Athlete Development Program | |
| 19 | Tayden-Evan Kaawa | Athlete Development Program | |
| 20 | Jaiden Lo Re | Athlete Development Program | |
| 21 | Jack McKernan | Athlete Development Program | |
| 22 | Dylan Minnatee | Athlete Development Program | |
| 23 | Brady Murrietta | Athlete Development Program | |
| 24 | Luke Pappano | Athlete Development Program | |
| 25 | Kalub Ramirez | Athlete Development Program | |
| 26 | Kaden Robardey | Athlete Development Program | |
| 27 | Kevin Roberts Jr. | Athlete Development Program | |
| 28 | Kruz Schoolcraft | Athlete Development Program | |
| 29 | Miles Scott | Athlete Development Program | |
| 30 | Sebastian Segura | Athlete Development Program | |
| 31 | Colt Springall | Athlete Development Program | |
| 32 | Jayden Stroman | Athlete Development Program | |
| 33 | Titan Targac | Athlete Development Program | |
| 34 | Nikko Taylor | Athlete Development Program | |
| 35 | James Tronstein | Athlete Development Program | |
| 36 | Mateo Villanueva | Athlete Development Program | |
| 37 | CJ Weinstein | Athlete Development Program | |
| 38 | Quentin Young | Athlete Development Program | |
| 39 | Coy James | Athlete Development Program | |
15U National Team Signatures Blue Ink
| | | | |
| --- | --- | --- | --- |
| # | Player | Team | |
| 1 | Henry Allen | USA Baseball 15U National Team | |
| 2 | Tristan Bristow | USA Baseball 15U National Team | |
| 3 | Slade Caldwell | USA Baseball 15U National Team | |
| 4 | Masa Chilcutt | USA Baseball 15U National Team | |
| 5 | Jase DeSantis | USA Baseball 15U National Team | |
| 6 | Konnor Griffin | USA Baseball 15U National Team | |
| 7 | Cal Miller | USA Baseball 15U National Team | |
| 8 | Austin Nye | USA Baseball 15U National Team | |
| 9 | Carson Page | USA Baseball 15U National Team | |
| 10 | Ethan Puig | USA Baseball 15U National Team | |
| 11 | Mason Russell | USA Baseball 15U National Team | |
| 12 | Ethan Schiefelbein | USA Baseball 15U National Team | |
| 13 | Joshua Springer | USA Baseball 15U National Team | |
| 14 | Michael Torres | USA Baseball 15U National Team | |
| 15 | Nolan Traeger | USA Baseball 15U National Team | |
| 16 | George Wolkow | USA Baseball 15U National Team | |
| 17 | Carson Messina | USA Baseball 15U National Team | |
| 18 | Henry Phifer | USA Baseball 15U National Team | |
| 19 | Zach Strickland | USA Baseball 15U National Team | |
| 20 | Ryan McPherson | USA Baseball 15U National Team | |
USA BB Alumni Signatures Blue Ink
| | | | |
| --- | --- | --- | --- |
| # | Player | Team | |
| 1 | Mark McGwire | USA Baseball Collegiate National Team | |
| 2 | Barry Larkin | USA Baseball Collegiate National Team | |
| 4 | Nomar Garciaparra | USA Baseball Collegiate National Team | |
| 5 | Will Clark | USA Baseball Collegiate National Team | |
| 6 | David Ross | USA Baseball 18U National Team | |
| 7 | Kumar Rocker | USA Baseball 18U National Team | |
| 8 | Heston Kjerstad | USA Baseball Collegiate National Team | |
Jumbo
| | | | |
| --- | --- | --- | --- |
| # | Player | Team | |
| 1 | Hunter Barco | USA Baseball Collegiate National Team | |
| 2 | Dylan Beavers | USA Baseball Collegiate National Team | |
| 3 | Jacob Berry | USA Baseball Collegiate National Team | |
| 4 | Justin Campbell | USA Baseball Collegiate National Team | |
| 5 | Reggie Crawford | USA Baseball Collegiate National Team | |
| 6 | Dylan Crews | USA Baseball Collegiate National Team | |
| 7 | Gavin Cross | USA Baseball Collegiate National Team | |
| 8 | Hayden Dunhurst | USA Baseball Collegiate National Team | |
| 9 | Jackson Fristoe | USA Baseball Collegiate National Team | |
| 10 | Drew Gilbert | USA Baseball Collegiate National Team | |
| 11 | Devereaux Harrison | USA Baseball Collegiate National Team | |
| 12 | Jace Jung | USA Baseball Collegiate National Team | |
| 13 | Caden Grice | USA Baseball Collegiate National Team | |
| 14 | Gabriel Hughes | USA Baseball Collegiate National Team | |
| 15 | Brock Jones | USA Baseball Collegiate National Team | |
| 16 | Jace Jung | USA Baseball Collegiate National Team | |
| 17 | Brooks Lee | USA Baseball Collegiate National Team | |
| 18 | Ethan Long | USA Baseball Collegiate National Team | |
| 19 | Daniel Susac | USA Baseball Collegiate National Team | |
| 20 | Sean McLain | USA Baseball Collegiate National Team | |
| 21 | Parker Messick | USA Baseball Collegiate National Team | |
| 22 | Robert Moore | USA Baseball Collegiate National Team | |
| 23 | Aaron Nixon | USA Baseball Collegiate National Team | |
| 24 | Carson Palmquist | USA Baseball Collegiate National Team | |
| 25 | Kevin Parada | USA Baseball Collegiate National Team | |
| 26 | Will Sanders | USA Baseball Collegiate National Team | |
| 27 | Nate Savino | USA Baseball Collegiate National Team | |
| 28 | Landon Sims | USA Baseball Collegiate National Team | |
| 29 | Brock Jones | USA Baseball Collegiate National Team | |
| 30 | Jordan Sprinkle | USA Baseball Collegiate National Team | |
| 31 | Brandon Sproat | USA Baseball Collegiate National Team | |
| 32 | Adam Stone | USA Baseball Collegiate National Team | |
| 33 | Logan Tanner | USA Baseball Collegiate National Team | |
| 34 | Kyle Teel | USA Baseball Collegiate National Team | |
| 35 | Drew Thorpe | USA Baseball Collegiate National Team | |
| 36 | Carter Trice | USA Baseball Collegiate National Team | |
| 37 | Jack Washburn | USA Baseball Collegiate National Team | |
| 38 | Carson Whisenhunt | USA Baseball Collegiate National Team | |
| 39 | Josh White | USA Baseball Collegiate National Team | |
| 40 | Jaxon Wiggins | USA Baseball Collegiate National Team | |
| 41 | Tanner Witt | USA Baseball Collegiate National Team | |
| 42 | Matthew Wyatt | USA Baseball Collegiate National Team | |
| 43 | Samuel Highfill | USA Baseball Collegiate National Team | |
| 44 | Ryan Clifford | USA Baseball 18U National Team | |
| 45 | Christopher Villaman | USA Baseball Collegiate National Team | |
| 46 | Cole Kirschsieper | USA Baseball Collegiate National Team | |
| 47 | Joe Allen | USA Baseball 18U National Team | |
| 48 | RJ Austin | USA Baseball 18U National Team | |
| 49 | Riley Stanford | USA Baseball 18U National Team | |
| 50 | Karson Bowen | USA Baseball 18U National Team | |
| 51 | Ryan Clifford | USA Baseball 18U National Team | |
| 52 | Andrew Dutkanych | USA Baseball 18U National Team | |
| 53 | Jackson Ferris | USA Baseball 18U National Team | |
| 54 | Cade Fisher | USA Baseball 18U National Team | |
| 55 | Elijah Green | USA Baseball 18U National Team | |
| 56 | Riley Stanford | USA Baseball 18U National Team | |
| 57 | Jackson Holliday | USA Baseball 18U National Team | |
| 58 | Jayden Hylton | USA Baseball 18U National Team | |
| 59 | Termarr Johnson | USA Baseball 18U National Team | |
| 60 | Druw Jones | USA Baseball 18U National Team | |
| 61 | Druw Jones | USA Baseball 18U National Team | |
| 62 | Paxton Kling | USA Baseball 18U National Team | |
| 63 | Owen Murphy | USA Baseball 18U National Team | |
| 64 | Jack O'Connor | USA Baseball 18U National Team | |
| 65 | Louis Rodriguez | USA Baseball 18U National Team | |
| 66 | Oliver Santos | USA Baseball 18U National Team | |
| 67 | Brennan Phillips | USA Baseball 18U National Team | |
| 68 | Blake Mitchell | USA Baseball 18U National Team | |
| 69 | Michael Kennedy | USA Baseball 18U National Team | |
| 70 | Michael Kennedy | USA Baseball 18U National Team | |
| 71 | Walker Jenkins | USA Baseball 18U National Team | |
| 72 | Walter Ford | USA Baseball 18U National Team | |
| 73 | Henry Allen | USA Baseball 15U National Team | |
| 74 | Tristan Bristow | USA Baseball 15U National Team | |
| 75 | Slade Caldwell | USA Baseball 15U National Team | |
| 76 | Masa Chilcutt | USA Baseball 15U National Team | |
| 77 | Jase DeSantis | USA Baseball 15U National Team | |
| 78 | RJ Austin | USA Baseball 18U National Team | |
| 79 | Cal Miller | USA Baseball 15U National Team | |
| 80 | Austin Nye | USA Baseball 15U National Team | |
| 81 | Carson Page | USA Baseball 15U National Team | |
| 82 | Ethan Puig | USA Baseball 15U National Team | |
| 83 | Mason Russell | USA Baseball 15U National Team | |
| 84 | Ethan Schiefelbein | USA Baseball 15U National Team | |
| 85 | Joshua Springer | USA Baseball 15U National Team | |
| 86 | Michael Torres | USA Baseball 15U National Team | |
| 87 | Nolan Traeger | USA Baseball 15U National Team | |
| 88 | George Wolkow | USA Baseball 15U National Team | |
| 89 | Carson Messina | USA Baseball 15U National Team | |
| 90 | Henry Phifer | USA Baseball 15U National Team | |
| 91 | Zach Strickland | USA Baseball 15U National Team | |
| 92 | Ryan McPherson | USA Baseball 15U National Team | |
| 93 | Kumar Rocker | USA Baseball 18U National Team | |
| 94 | Brice Turang | USA Baseball 18U National Team | |
| 95 | Colton Cowser | USA Baseball Collegiate National Team | |
| 96 | Brady House | USA Baseball 15U National Team | |
| 97 | Max Meyer | USA Baseball Collegiate National Team | |
| 98 | Austin Hendrick | USA Baseball 18U National Team | |
| 99 | Heston Kjerstad | USA Baseball Collegiate National Team | |
| 100 | Spencer Torkelson | USA Baseball Collegiate National Team | |
USA BB Materials
| | | | |
| --- | --- | --- | --- |
| # | Player | Team | |
| 1 | Zach Anderson | National Team Development Program | |
| 2 | TayShaun Walton | National Team Development Program | |
| 3 | Blake Balsz | National Team Development Program | |
| 4 | Eric Bitonti | National Team Development Program | |
| 5 | Matthew Champion | National Team Development Program | |
| 6 | Maxwell Clark | National Team Development Program | |
| 7 | Steven Milam | National Team Development Program | |
| 8 | Chance Mako | National Team Development Program | |
| 9 | Dylan Cupp | National Team Development Program | |
| 10 | Derek Curiel | National Team Development Program | |
| 11 | Dean Curley | National Team Development Program | |
| 12 | Daniel Cuvet | National Team Development Program | |
| 13 | Sebastian David | National Team Development Program | |
| 14 | Owen Egan | National Team Development Program | |
| 15 | Bryce Eldridge | National Team Development Program | |
| 16 | Colt Emerson | National Team Development Program | |
| 17 | Walter Ford | National Team Development Program | |
| 18 | Theodore Gillen | National Team Development Program | |
| 19 | Gavin Grahovac | National Team Development Program | |
| 20 | Adam Hachman | National Team Development Program | |
| 21 | James Hays | National Team Development Program | |
| 22 | Ryder Helfrick | National Team Development Program | |
| 23 | Braden Holcomb | National Team Development Program | |
| 24 | Walker Jenkins | National Team Development Program | |
| 25 | Justin Lee | National Team Development Program | |
| 26 | Adrian Lopez | National Team Development Program | |
| 27 | Wes Mendes | National Team Development Program | |
| 28 | Aidan Miller | National Team Development Program | |
| 29 | Blake Mitchell | National Team Development Program | |
| 30 | Bryson Moore | National Team Development Program | |
| 31 | Michael Mullinax | National Team Development Program | |
| 32 | Liam Peterson | National Team Development Program | |
| 33 | Bryce Rainer | National Team Development Program | |
| 34 | Christian Rodriguez | National Team Development Program | |
| 35 | Austen Roellig | National Team Development Program | |
| 37 | Cole Schoenwetter | National Team Development Program | |
| 38 | Drew Sofield | National Team Development Program | |
| 39 | Ryan Speshyock | National Team Development Program | |
| 40 | Cale Stricklin | National Team Development Program | |
| 41 | Landon Stump | National Team Development Program | |
| 42 | Travis Sykora | National Team Development Program | |
| 43 | Nikko Taylor | Athlete Development Program | |
| 44 | Donavan Jeffrey | Athlete Development Program | |
| 45 | Dillon Adkins | Athlete Development Program | |
| 46 | Evan Amos | Athlete Development Program | |
| 47 | Wyatt Bauer | Athlete Development Program | |
| 48 | Lincoln Boyle | Athlete Development Program | |
| 49 | Quentin Young | Athlete Development Program | |
| 50 | Trevor Busby | Athlete Development Program | |
| 51 | Landon Carter | Athlete Development Program | |
| 52 | Bubba Coleman | Athlete Development Program | |
| 53 | Tristan Dalzell | Athlete Development Program | |
| 54 | Mateo Villanueva | Athlete Development Program | |
| 55 | CJ Weinstein | Athlete Development Program | |
| 56 | Hayden George | Athlete Development Program | |
| 57 | Dean Hannah | Athlete Development Program | |
| 58 | Josiah Hartshorn | Athlete Development Program | |
| 59 | Ryan Harwood | Athlete Development Program | |
| 60 | Rashad Hayes | Athlete Development Program | |
| 61 | Isaiah Ibarra | Athlete Development Program | |
| 62 | Coy James | Athlete Development Program | |
| 63 | Tayden-Evan Kaawa | Athlete Development Program | |
| 64 | Jaiden Lo Re | Athlete Development Program | |
| 65 | Jack McKernan | Athlete Development Program | |
| 66 | Dylan Minnatee | Athlete Development Program | |
| 67 | Brady Murrietta | Athlete Development Program | |
| 68 | Luke Pappano | Athlete Development Program | |
| 69 | Kalub Ramirez | Athlete Development Program | |
| 70 | Kaden Robardey | Athlete Development Program | |
| 71 | Kevin Roberts Jr. | Athlete Development Program | |
| 72 | Kruz Schoolcraft | Athlete Development Program | |
| 73 | Miles Scott | Athlete Development Program | |
| 74 | Sebastian Segura | Athlete Development Program | |
| 75 | Colt Springall | Athlete Development Program | |
| 76 | Jayden Stroman | Athlete Development Program | |
| 77 | James Tronstein | Athlete Development Program | |
| 78 | Xavier Neyens | USA Baseball 15U National Team | |
| 79 | Aiden Harris | USA Baseball 15U National Team | |
| 80 | Brady Ebel | USA Baseball 15U National Team | |
| 81 | Jackson Ferris | USA Baseball 18U National Team | |
| 82 | Termarr Johnson | USA Baseball 18U National Team | |
| 83 | Braeden Weckman | USA Baseball 15U National Team | |
| 84 | Cameron Uzzillia | USA Baseball 15U National Team | |
| 85 | Cannon Goldin | USA Baseball 15U National Team | |
| 86 | Coy Allman | USA Baseball 15U National Team | |
| 87 | Dean Hannah | USA Baseball 15U National Team | |
| 88 | Dean Moss | USA Baseball 15U National Team | |
| 89 | Dillon Adkins | USA Baseball 15U National Team | |
| 90 | Dylan Franco | USA Baseball 15U National Team | |
| 91 | Everett Johnson | USA Baseball 15U National Team | |
| 92 | Gavin Fien | USA Baseball 15U National Team | |
| 93 | Gerardo Gonzalez | USA Baseball 15U National Team | |
| 94 | Jack McKernan | USA Baseball 15U National Team | |
| 95 | JD Crisp | USA Baseball 15U National Team | |
| 96 | John Lash | USA Baseball 15U National Team | |
| 97 | Kailand Halstead | USA Baseball 15U National Team | |
| 98 | Luke Oblen | USA Baseball 15U National Team | |
| 99 | Riley Brown | USA Baseball 15U National Team | |
| 100 | Titan Targac | USA Baseball 15U National Team | |
Whammy
| | | | |
| --- | --- | --- | --- |
| # | Player | Team | |
| 1 | Joe Carter | USA Baseball Collegiate National Team | |
| 2 | Will Clark | USA Baseball Collegiate National Team | |
| 4 | Nomar Garciaparra | USA Baseball Collegiate National Team | |
| 5 | Ken Griffey Jr. | USA Baseball Professional Team | |
| 6 | Fred Lynn | USA Baseball Collegiate National Team | |
| 7 | Mark McGwire | USA Baseball Collegiate National Team | |
| 8 | Dustin Pedroia | USA Baseball Collegiate National Team | |
| 9 | Alex Rodriguez | USA Baseball 18U National Team | |
| 10 | Adley Rutschman | USA Baseball Collegiate National Team | |
| 11 | Frank Thomas | USA Baseball Collegiate National Team | |
| 12 | Spencer Torkelson | USA Baseball Collegiate National Team | |
| 13 | Heston Kjerstad | USA Baseball Collegiate National Team | |
| 14 | Bobby Witt Jr. | USA Baseball 18U National Team | |
| 15 | Ozzie Smith | USA Baseball Collegiate National Team | |
| 16 | Barry Larkin | USA Baseball Collegiate National Team | |
| 17 | Royce Lewis | USA Baseball 18U National Team | |
| 18 | Chipper Jones | USA Baseball Professional Team | |