2022 Panini Chronicles WWE
Release Date: December 30, 2022
2022 Panini Chronicles WWE makes its in-ring debut with a plethora of unique content! Look for 2 autographs per box, on average!
---
ABOUT THIS PRODUCT
2022 Panini Chronicles WWE
Collect base cards and parallels from more than 20 brands, including Hobby-exclusive National Treasures, Noir, One and Gala!
Find Hobby-exclusive autographed memorabilia cards in Tools of the Trade Signatures, Silhouettes and National Treasures Memorabilia Autographs!
Celebrate the career of "The Cerebral Asassin" with a unique, 50-card career tribute set of WWE legend Triple H!
2022 Panini Chronicles WWE
BASE SET
Look for Hobby-exclusive sets, including Noir, National Treasures and Gala!
BASE GALA ROOKIES                        BASE NATIONAL TREASURES             BASE NOIR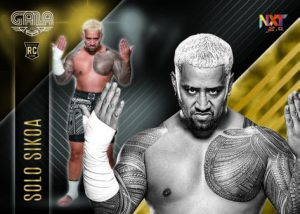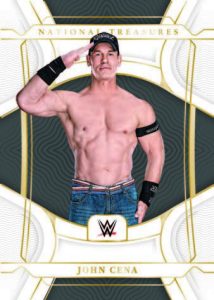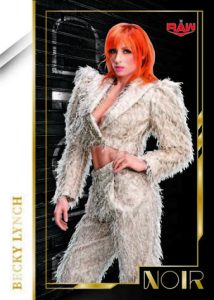 AUTOGRAPHS
Find stunning autographs that feature the top superstars across all brands!
SILHOUETTES PRIME         ORIGINS AUTOGRAPHS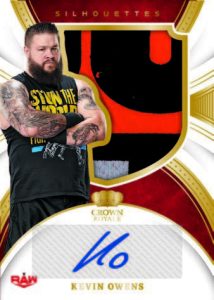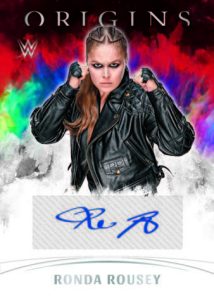 NATIONAL TREASURES MEMORABILIA AUTOGRAPHS GOLD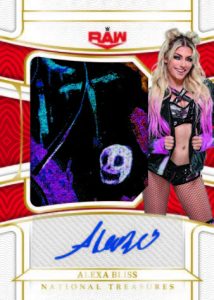 INSERTS
Celebrate the 25+ year WWE career of Triple H in this career anthology insert!
Hobby Configuration
8 CARDS PER PACK
6 PACKS PER BOX
12 BOXES PER CASE
Box Break
Base
Base Contenders Season Ticket
Base Donruss Rated Rookies
Autograph
Contenders Rookie Season Ticket
Donruss Optic Rated Rookie Signatures
National Pride Signatures
National Treasures Memorabilia Autographs
Tools of the Trade Signatures
Base Chronicles
| | | | |
| --- | --- | --- | --- |
| # | Player | Team | |
| 1 | Alexa Bliss | Raw | |
| 2 | Happy Corbin | SmackDown | |
| 3 | Liv Morgan | SmackDown | |
| 4 | Josh Briggs | NXT 2.0 | |
| 5 | Bam Bam Bigelow | Legend | |
| 6 | Molly Holly | Legend | |
| 7 | Robert Roode | Raw | |
| 8 | Akira Tozawa | Raw | |
| 9 | Bron Breakker | NXT 2.0 | |
| 10 | Commander Azeez | NXT 2.0 | |
| 11 | Asuka | Raw | |
| 12 | The Honky Tonk Man | Legend | |
| 13 | Mandy Rose | NXT 2.0 | |
| 14 | Junkyard Dog | Legend | |
| 15 | D-Lo Brown | Legend | |
| 16 | Montez Ford | Raw | |
| 17 | R-Truth | Raw | |
| 18 | Angel | SmackDown | |
| 19 | Cora Jade | NXT 2.0 | |
| 20 | Cowboy Bob Orton | Legend | |
| 21 | Becky Lynch | Raw | |
| 22 | Humberto | SmackDown | |
| 23 | Rhea Ripley | Raw | |
| 24 | Ken Shamrock | Legend | |
| 25 | Rick Steiner | Legend | |
| 26 | Mr. T | Legend | |
| 27 | Shelton Benjamin | Raw | |
| 28 | Angelo Dawkins | Raw | |
| 29 | Gable Steveson | Raw | |
| 30 | Dana Brooke | Raw | |
| 31 | Brock Lesnar | SmackDown | |
| 32 | Ilja Dragunov | NXT UK | |
| 33 | Roman Reigns | SmackDown | |
| 34 | Lex Luger | Legend | |
| 35 | Karrion Kross | SmackDown | |
| 36 | Mustafa Ali | SmackDown | |
| 37 | Sid Vicious | Legend | |
| 38 | Big Boss Man | Legend | |
| 39 | Bayley | Raw | |
| 40 | Dominik Mysterio | Raw | |
| 41 | Charlotte Flair | SmackDown | |
| 42 | Ivar | SmackDown | |
| 43 | Ronda Rousey | WWE | |
| 44 | Ludwig Kaiser | SmackDown | |
| 45 | Hulk Hogan | Legend | |
| 46 | MVP | Raw | |
| 47 | Tamina | Raw | |
| 48 | Big John Studd | Legend | |
| 49 | Nikkita Lyons | NXT 2.0 | |
| 50 | Don Muraco | Legend | |
| 51 | The American Nightmare Cody Rhodes | Raw | |
| 52 | Jagger Reid | NXT 2.0 | |
| 53 | Elektra Lopez | NXT 2.0 | |
| 54 | Mace | SmackDown | |
| 55 | Macho Man Randy Savage | Legend | |
| 56 | Otis | Raw | |
| 57 | T-Bar | Raw | |
| 58 | British Bulldog | Legend | |
| 59 | Roxanne Perez | NXT 2.0 | |
| 60 | Erik | SmackDown | |
| 61 | Edge | Raw | |
| 62 | Jey Uso | SmackDown | |
| 63 | Bret "Hit Man" Hart | Legend | |
| 64 | Madcap Moss | SmackDown | |
| 65 | Stone Cold Steve Austin | Legend | |
| 66 | Ravishing Rick Rude | Legend | |
| 67 | Umaga | Legend | |
| 68 | Captain Lou Albano | Legend | |
| 69 | Solo Sikoa | NXT 2.0 | |
| 70 | Ezekiel | Raw | |
| 71 | Finn Balor | Raw | |
| 72 | Jim "The Anvil" Neidhart | Legend | |
| 73 | Goldberg | WWE | |
| 74 | man.soor | SmackDown | |
| 75 | Triple H | Legend | |
| 76 | Reggie | Raw | |
| 77 | Vader | Legend | |
| 78 | Cedric Alexander | Raw | |
| 79 | Tony D'Angelo | NXT 2.0 | |
| 80 | Freddie Blassie | Legend | |
| 81 | Gigi Dolin | NXT 2.0 | |
| 82 | Jimmy Uso | SmackDown | |
| 83 | The Rock | Legend | |
| 84 | Meiko Satomura | NXT UK | |
| 85 | Ultimate Warrior | Legend | |
| 86 | Ridge Holland | SmackDown | |
| 87 | Xavier Woods | SmackDown | |
| 88 | Chad Gable | Raw | |
| 89 | Veer Mahaan | Raw | |
| 90 | The Godfather | Legend | |
| 91 | John Cena | WWE | |
| 92 | Jinder Mahal | SmackDown | |
| 93 | Shawn Michaels | Legend | |
| 94 | Michael Hayes | Legend | |
| 95 | Undertaker | Legend | |
| 96 | Road Dogg | Legend | |
| 97 | X-Pac | Legend | |
| 98 | Chief Jay Strongbow | Legend | |
| 99 | AJ Styles | Raw | |
| 100 | Greg Valentine | Legend | |
Base Legacy
| | | | |
| --- | --- | --- | --- |
| # | Player | Team | |
| 141 | Shawn Michaels | Legend | |
| 142 | Andre The Giant | Legend | |
| 143 | Chyna | Legend | |
| 144 | Hulk Hogan | Legend | |
| 145 | Macho Man Randy Savage | Legend | |
| 146 | Stone Cold Steve Austin | Legend | |
| 147 | Triple H | Legend | |
| 148 | Ultimate Warrior | Legend | |
| 149 | Undertaker | Legend | |
| 150 | Batista | Legend | |
Base National Treasures
| | | | |
| --- | --- | --- | --- |
| # | Player | Team | |
| 431 | John Cena | WWE | |
| 432 | Mr. Perfect Curt Hennig | Legend | |
| 433 | Cora Jade | NXT 2.0 | |
| 434 | Papa Shango | WWE | |
| 435 | Triple H | Legend | |
| 436 | The Hurricane | Legend | |
| 437 | Brooks Jensen | NXT 2.0 | |
| 438 | Ivy Nile | NXT 2.0 | |
| 439 | Alexa Bliss | Raw | |
| 440 | Rey Mysterio | Raw | |
| 441 | Roxanne Perez | NXT 2.0 | |
| 442 | Randy Orton | Raw | |
| 443 | Goldberg | WWE | |
| 444 | Santos Escobar | NXT 2.0 | |
| 445 | Andre The Giant | Legend | |
| 446 | Von Wagner | NXT 2.0 | |
| 447 | Diamond Dallas Page | Legend | |
| 448 | Kevin Owens | Raw | |
| 449 | Brock Lesnar | SmackDown | |
| 450 | Karrion Kross | SmackDown | |
| 451 | Rhea Ripley | Raw | |
| 452 | Ricky "The Dragon" Steamboat | Legend | |
| 453 | Hulk Hogan | Legend | |
| 454 | Stephanie McMahon | Legend | |
| 455 | Aoife Valkyrie | NXT UK | |
| 456 | Yulisa Leon | NXT 2.0 | |
| 457 | Faarooq | Legend | |
| 458 | Nikki A.S.H. | Raw | |
| 459 | Edge | Raw | |
| 460 | Lash Legend | NXT 2.0 | |
Base Donruss Rated Rookies
| | | | |
| --- | --- | --- | --- |
| # | Player | Team | |
| 111 | Carmelo Hayes | NXT 2.0 | |
| 112 | Nikkita Lyons | NXT 2.0 | |
| 113 | Joe Gacy | NXT 2.0 | |
| 114 | Roxanne Perez | NXT 2.0 | |
| 115 | Solo Sikoa | NXT 2.0 | |
| 116 | Bron Breakker | NXT 2.0 | |
| 117 | Tony D'Angelo | NXT 2.0 | |
| 118 | Cora Jade | NXT 2.0 | |
| 119 | Veer Mahaan | Raw | |
| 120 | Gable Steveson | Raw | |
Base Elite
| | | | |
| --- | --- | --- | --- |
| # | Player | Team | |
| 241 | Finn Balor | Raw | |
| 242 | Alba Fyre | NXT 2.0 | |
| 243 | Axiom | NXT 2.0 | |
| 244 | Shinsuke Nakamura | SmackDown | |
| 245 | Cactus Jack | Legend | |
| 246 | Bobby "The Brain" Heenan | Legend | |
| 247 | John "Bradshaw" Layfield | Legend | |
| 248 | Omos | Raw | |
| 249 | The American Nightmare Cody Rhodes | Raw | |
| 250 | Sheamus | SmackDown | |
| 251 | Gable Steveson | Raw | |
| 252 | Yulisa Leon | NXT 2.0 | |
| 253 | Bianca Belair | Raw | |
| 254 | Stacy Keibler | Legend | |
| 255 | The Great Khali | Legend | |
| 256 | The All Mighty Bobby Lashley | Raw | |
| 257 | Lacey Evans | WWE | |
| 258 | Matt Riddle | Raw | |
| 259 | Edge | Raw | |
| 260 | The Miz | Raw | |
Base Gala Rookies
| | | | |
| --- | --- | --- | --- |
| # | Player | Team | |
| 491 | Roxanne Perez | NXT 2.0 | |
| 492 | Gable Steveson | Raw | |
| 493 | Solo Sikoa | NXT 2.0 | |
| 494 | Bron Breakker | NXT 2.0 | |
| 495 | Carmelo Hayes | NXT 2.0 | |
| 496 | Tony D'Angelo | NXT 2.0 | |
| 497 | Nikkita Lyons | NXT 2.0 | |
| 498 | Cora Jade | NXT 2.0 | |
| 499 | Joe Gacy | NXT 2.0 | |
| 500 | Veer Mahaan | Raw | |
Base One
| | | | |
| --- | --- | --- | --- |
| # | Player | Team | |
| 461 | Liv Morgan | SmackDown | |
| 462 | The Rock | Legend | |
| 463 | Stacy Keibler | Legend | |
| 464 | Chyna | Legend | |
| 465 | Gorilla Monsoon | Legend | |
| 466 | Rey Mysterio | Raw | |
| 467 | Isla Dawn | NXT UK | |
| 468 | Yokozuna | Legend | |
| 469 | Asuka | Raw | |
| 470 | Kit Wilson | NXT 2.0 | |
| 471 | Roman Reigns | SmackDown | |
| 472 | Batista | Legend | |
| 473 | Macho Man Randy Savage | Legend | |
| 474 | Million Dollar Man Ted DiBiase | Legend | |
| 475 | Tiffany Stratton | NXT 2.0 | |
| 476 | Torrie Wilson | Legend | |
| 477 | Indi Hartwell | NXT 2.0 | |
| 478 | Jinny | NXT UK | |
| 479 | Charlotte Flair | SmackDown | |
| 480 | Mankind | Legend | |
| 481 | Gable Steveson | Raw | |
| 482 | Rob Van Dam | Legend | |
| 483 | Ultimate Warrior | Legend | |
| 484 | The Boogeyman | Legend | |
| 485 | Captain Lou Albano | Legend | |
| 486 | Wendy Choo | NXT 2.0 | |
| 487 | Iron Sheik | Legend | |
| 488 | Katana Chance | NXT 2.0 | |
| 489 | Finn Balor | Raw | |
| 490 | Oliver Carter | NXT UK | |
Base Noir
| | | | |
| --- | --- | --- | --- |
| # | Player | Team | |
| 401 | Stone Cold Steve Austin | Legend | |
| 402 | Rikishi | Legend | |
| 403 | Elton Prince | NXT 2.0 | |
| 404 | Nathan Frazer | NXT 2.0 | |
| 405 | AJ Styles | Raw | |
| 406 | Valentina Feroz | NXT 2.0 | |
| 407 | Gigi Dolin | NXT 2.0 | |
| 408 | IRS | Legend | |
| 409 | Bron Breakker | NXT 2.0 | |
| 410 | Ken Shamrock | Legend | |
| 411 | Undertaker | Legend | |
| 412 | Drew McIntyre | SmackDown | |
| 413 | Isla Dawn | NXT UK | |
| 414 | Razor Ramon | Legend | |
| 415 | Becky Lynch | Raw | |
| 416 | 1-2-3 Kid | Legend | |
| 417 | Mandy Rose | NXT 2.0 | |
| 418 | Joaquin Wilde | NXT 2.0 | |
| 419 | Bret "Hit Man" Hart | Legend | |
| 420 | Nikolai Volkoff | Legend | |
| 421 | Dante Chen | NXT 2.0 | |
| 422 | Stevie Turner | NXT UK | |
| 423 | Bianca Belair | Raw | |
| 424 | Santos Escobar | NXT 2.0 | |
| 425 | The American Nightmare Cody Rhodes | Raw | |
| 426 | The Great Khali | Legend | |
| 427 | Ronda Rousey | WWE | |
| 428 | Malik Blade | NXT 2.0 | |
| 429 | Shawn Michaels | Legend | |
| 430 | Paul Bearer | Legend | |
Base Phoenix
| | | | |
| --- | --- | --- | --- |
| # | Player | Team | |
| 301 | Ciampa | Raw | |
| 302 | Mr. Perfect Curt Hennig | Legend | |
| 303 | Joaquin Wilde | NXT 2.0 | |
| 304 | Rowdy Roddy Piper | Legend | |
| 305 | Roxanne Perez | NXT 2.0 | |
| 306 | Alundra Blayze | Legend | |
| 307 | Rhea Ripley | Raw | |
| 308 | Cruz Del Toro | NXT 2.0 | |
| 309 | Aliyah | SmackDown | |
| 310 | Indi Hartwell | NXT 2.0 | |
| 311 | Eddie Guerrero | Legend | |
| 312 | Queen Zelina | Raw | |
| 313 | Mankind | Legend | |
| 314 | Sonya Deville | SmackDown | |
| 315 | Ronda Rousey | WWE | |
| 316 | The All Mighty Bobby Lashley | Raw | |
| 317 | The Rock | Legend | |
| 318 | Edris Enofe | NXT 2.0 | |
| 319 | Bobby "The Brain" Heenan | Legend | |
| 320 | Julius Creed | NXT 2.0 | |
| 321 | Ikemen Jiro | NXT 2.0 | |
| 322 | Roderick Strong | NXT 2.0 | |
| 323 | Trish Stratus | Legend | |
| 324 | Torrie Wilson | Legend | |
| 325 | Roman Reigns | SmackDown | |
Base Flux
| | | | |
| --- | --- | --- | --- |
| # | Player | Team | |
| 326 | Mandy Rose | NXT 2.0 | |
| 327 | Torrie Wilson | Legend | |
| 328 | Gigi Dolin | NXT 2.0 | |
| 329 | Doudrop | Raw | |
| 330 | Elektra Lopez | NXT 2.0 | |
| 331 | Dusty Rhodes | Legend | |
| 332 | Solo Sikoa | NXT 2.0 | |
| 333 | Faarooq | Legend | |
| 334 | Ru Feng | NXT | |
| 335 | Trish Stratus | Legend | |
| 336 | Liv Morgan | SmackDown | |
| 337 | Andre Chase | NXT 2.0 | |
| 338 | Shawn Michaels | Legend | |
| 339 | Dude Love | Legend | |
| 340 | IYO SKY | Raw | |
| 341 | Scott Steiner | Legend | |
| 342 | Randy Orton | Raw | |
| 343 | Gene Okerlund | Legend | |
| 344 | Stevie Turner | NXT UK | |
| 345 | Trick Williams | NXT 2.0 | |
| 346 | John Cena | WWE | |
| 347 | Kevin Nash | Legend | |
| 348 | Damian Priest | Raw | |
| 349 | Duke Hudson | NXT 2.0 | |
| 350 | Katana Chance | NXT 2.0 | |
Base Origins
| | | | |
| --- | --- | --- | --- |
| # | Player | Team | |
| 131 | Damian Priest | Raw | |
| 132 | Randy Orton | Raw | |
| 133 | Eddie Guerrero | Legend | |
| 134 | Gunther | SmackDown | |
| 135 | Axiom | NXT 2.0 | |
| 136 | Jake Roberts | Legend | |
| 137 | Batista | Legend | |
| 138 | Kit Wilson | NXT 2.0 | |
| 139 | Brie Bella | Legend | |
| 140 | Nathan Frazer | NXT 2.0 | |
Base Black
| | | | |
| --- | --- | --- | --- |
| # | Player | Team | |
| 201 | Carmelo Hayes | NXT 2.0 | |
| 202 | Kevin Owens | Raw | |
| 203 | Nikki Bella | Legend | |
| 204 | Brutus Creed | NXT 2.0 | |
| 205 | Aliyah | SmackDown | |
| 206 | Gorilla Monsoon | Legend | |
| 207 | Kofi Kingston | SmackDown | |
| 208 | AJ Styles | Raw | |
| 209 | Ricky "The Dragon" Steamboat | Legend | |
| 210 | Asuka | Raw | |
| 211 | Xia Li | SmackDown | |
| 212 | Bayley | WWE | |
| 213 | Andre Chase | NXT 2.0 | |
| 214 | Doudrop | Raw | |
| 215 | Amari Miller | NXT 2.0 | |
| 216 | Jacy Jayne | NXT 2.0 | |
| 217 | Odyssey Jones | NXT 2.0 | |
| 218 | Alexa Bliss | Raw | |
| 219 | Shanky | SmackDown | |
| 220 | Bron Breakker | NXT 2.0 | |
Base Contenders Season Ticket
| | | | |
| --- | --- | --- | --- |
| # | Player | Team | |
| 101 | Asuka | Raw | |
| 102 | Finn Balor | Raw | |
| 103 | Becky Lynch | Raw | |
| 104 | John Cena | WWE | |
| 105 | Brock Lesnar | SmackDown | |
| 106 | Charlotte Flair | SmackDown | |
| 107 | AJ Styles | Raw | |
| 108 | The American Nightmare Cody Rhodes | Raw | |
| 109 | Alexa Bliss | Raw | |
| 110 | Edge | Raw | |
Base Spectra
| | | | |
| --- | --- | --- | --- |
| # | Player | Team | |
| 376 | The Miz | Raw | |
| 377 | Iron Sheik | Legend | |
| 378 | Raquel Rodriguez | SmackDown | |
| 379 | AJ Styles | Raw | |
| 380 | Bodhi Hayward | NXT 2.0 | |
| 381 | Becky Lynch | Raw | |
| 382 | Ricochet | SmackDown | |
| 383 | Amari Miller | NXT 2.0 | |
| 384 | Shayna Baszler | SmackDown | |
| 385 | Kurt Angle | Legend | |
| 386 | Theory | Raw | |
| 387 | Kayden Carter | NXT 2.0 | |
| 388 | Sami Zayn | SmackDown | |
| 389 | Alexa Bliss | Raw | |
| 390 | Billy Gunn | Legend | |
| 391 | Chyna | Legend | |
| 392 | Matt Riddle | Raw | |
| 393 | Booker T | Legend | |
| 394 | Sheamus | SmackDown | |
| 395 | Randy Orton | Raw | |
| 396 | Xia Li | SmackDown | |
| 397 | Natalya | SmackDown | |
| 398 | Johnny Rodz | Legend | |
| 399 | Asuka | Raw | |
| 400 | Trick Williams | NXT 2.0 | |
Base Donruss Optic
| | | | |
| --- | --- | --- | --- |
| # | Player | Team | |
| 351 | The American Nightmare Cody Rhodes | Raw | |
| 352 | Lacey Evans | WWE | |
| 353 | Andre The Giant | Legend | |
| 354 | Paul Heyman | SmackDown | |
| 355 | Nikki Bella | Legend | |
| 356 | Sami Zayn | SmackDown | |
| 357 | Million Dollar Man Ted DiBiase | Legend | |
| 358 | Bruno Sammartino | Legend | |
| 359 | Finn Balor | Raw | |
| 360 | Superstar Billy Graham | Legend | |
| 361 | Charlotte Flair | SmackDown | |
| 362 | Rikishi | Legend | |
| 363 | DIESEL | Legend | |
| 364 | Rey Mysterio | Raw | |
| 365 | Rick Boogs | SmackDown | |
| 366 | Seth "Freakin" Rollins | Raw | |
| 367 | Brie Bella | Legend | |
| 368 | Stacy Keibler | Legend | |
| 369 | Edge | Raw | |
| 370 | Kevin Owens | Raw | |
| 371 | Brock Lesnar | SmackDown | |
| 372 | Omos | Raw | |
| 373 | Gene Okerlund | Legend | |
| 374 | Undertaker | Legend | |
| 375 | Terry Gordy | Legend | |
Base Prestige
| | | | |
| --- | --- | --- | --- |
| # | Player | Team | |
| 171 | Dante Chen | NXT 2.0 | |
| 172 | Nikki Bella | Legend | |
| 173 | Elektra Lopez | NXT 2.0 | |
| 174 | Ru Feng | NXT | |
| 175 | Ikemen Jiro | NXT 2.0 | |
| 176 | Sonya Deville | SmackDown | |
| 177 | Jerry Lawler | Legend | |
| 178 | Kevin Owens | Raw | |
| 179 | Bruno Sammartino | Legend | |
| 180 | Razor Ramon | Legend | |
Base Score
| | | | |
| --- | --- | --- | --- |
| # | Player | Team | |
| 191 | Drew McIntyre | SmackDown | |
| 192 | Trish Stratus | Legend | |
| 193 | IYO SKY | Raw | |
| 194 | Kayden Carter | NXT 2.0 | |
| 195 | Alundra Blayze | Legend | |
| 196 | Odyssey Jones | NXT 2.0 | |
| 197 | Bianca Belair | Raw | |
| 198 | Queen Zelina | Raw | |
| 199 | Cameron Grimes | NXT 2.0 | |
| 200 | Superstar Billy Graham | Legend | |
Base XR
| | | | |
| --- | --- | --- | --- |
| # | Player | Team | |
| 281 | Blair Davenport | NXT UK | |
| 282 | Diamond Dallas Page | Legend | |
| 283 | Dusty Rhodes | Legend | |
| 284 | Jinny | NXT UK | |
| 285 | Rhea Ripley | Raw | |
| 286 | Paul Heyman | SmackDown | |
| 287 | Ronda Rousey | WWE | |
| 288 | Shotzi | SmackDown | |
| 289 | Goldberg | WWE | |
| 290 | Cactus Jack | Legend | |
| 291 | Carmella | Raw | |
| 292 | Cruz Del Toro | NXT 2.0 | |
| 293 | Guru Raaj | NXT 2.0 | |
| 294 | Malik Blade | NXT 2.0 | |
| 295 | Roman Reigns | SmackDown | |
| 296 | Rob Van Dam | Legend | |
| 297 | Solo Sikoa | NXT 2.0 | |
| 298 | The All Mighty Bobby Lashley | Raw | |
| 299 | Aleah James | NXT UK | |
| 300 | Ciampa | Raw | |
Base Absolute
| | | | |
| --- | --- | --- | --- |
| # | Player | Team | |
| 121 | Liv Morgan | SmackDown | |
| 122 | Bret "Hit Man" Hart | Legend | |
| 123 | Mandy Rose | NXT 2.0 | |
| 124 | The Rock | Legend | |
| 125 | Rhea Ripley | Raw | |
| 126 | Goldberg | WWE | |
| 127 | Roman Reigns | SmackDown | |
| 128 | Ronda Rousey | WWE | |
| 129 | Gigi Dolin | NXT 2.0 | |
| 130 | Solo Sikoa | NXT 2.0 | |
Base Certified
| | | | |
| --- | --- | --- | --- |
| # | Player | Team | |
| 221 | Charlotte Flair | SmackDown | |
| 222 | Terry Funk | Legend | |
| 223 | Tiffany Stratton | NXT 2.0 | |
| 224 | Rowdy Roddy Piper | Legend | |
| 225 | Butch | SmackDown | |
| 226 | Aoife Valkyrie | NXT UK | |
| 227 | Grayson Waller | NXT 2.0 | |
| 228 | The Miz | Raw | |
| 229 | Becky Lynch | Raw | |
| 230 | Ricochet | SmackDown | |
| 231 | Cora Jade | NXT 2.0 | |
| 232 | Yokozuna | Legend | |
| 233 | Beth Phoenix | Legend | |
| 234 | Bodhi Hayward | NXT 2.0 | |
| 235 | Drew McIntyre | SmackDown | |
| 236 | Big E | SmackDown | |
| 237 | Jake Roberts | Legend | |
| 238 | Oliver Carter | NXT UK | |
| 239 | Brock Lesnar | SmackDown | |
| 240 | Shayna Baszler | SmackDown | |
Base Illusions
| | | | |
| --- | --- | --- | --- |
| # | Player | Team | |
| 261 | Liv Morgan | SmackDown | |
| 262 | Shinsuke Nakamura | SmackDown | |
| 263 | Bret "Hit Man" Hart | Legend | |
| 264 | Trick Williams | NXT 2.0 | |
| 265 | Big E | SmackDown | |
| 266 | Butch | SmackDown | |
| 267 | Duke Hudson | NXT 2.0 | |
| 268 | Jerry Lawler | Legend | |
| 269 | Gigi Dolin | NXT 2.0 | |
| 270 | Paul Bearer | Legend | |
| 271 | Mandy Rose | NXT 2.0 | |
| 272 | Theory | Raw | |
| 273 | Dude Love | Legend | |
| 274 | Booker T | Legend | |
| 275 | Cameron Grimes | NXT 2.0 | |
| 276 | Carmella | Raw | |
| 277 | Gunther | SmackDown | |
| 278 | Lash Legend | NXT 2.0 | |
| 279 | John Cena | WWE | |
| 280 | Rikishi | Legend | |
Base Luminance
| | | | |
| --- | --- | --- | --- |
| # | Player | Team | |
| 151 | Edris Enofe | NXT 2.0 | |
| 152 | Rowdy Roddy Piper | Legend | |
| 153 | Big E | SmackDown | |
| 154 | Shinsuke Nakamura | SmackDown | |
| 155 | Brooks Jensen | NXT 2.0 | |
| 156 | Carmella | Raw | |
| 157 | Bayley | WWE | |
| 158 | Valentina Feroz | NXT 2.0 | |
| 159 | Alba Fyre | NXT 2.0 | |
| 160 | Guru Raaj | NXT 2.0 | |
Base Playoff
| | | | |
| --- | --- | --- | --- |
| # | Player | Team | |
| 161 | Aleah James | NXT UK | |
| 162 | Raquel Rodriguez | SmackDown | |
| 163 | Beth Phoenix | Legend | |
| 164 | Roderick Strong | NXT 2.0 | |
| 165 | Shotzi | SmackDown | |
| 166 | John "Bradshaw" Layfield | Legend | |
| 167 | Terry Funk | Legend | |
| 168 | Kofi Kingston | SmackDown | |
| 169 | Von Wagner | NXT 2.0 | |
| 170 | Nikki A.S.H. | Raw | |
Base Rookies and Stars
| | | | |
| --- | --- | --- | --- |
| # | Player | Team | |
| 181 | Tiffany Stratton | NXT 2.0 | |
| 182 | Grayson Waller | NXT 2.0 | |
| 183 | Blair Davenport | NXT UK | |
| 184 | Ivy Nile | NXT 2.0 | |
| 185 | Shanky | SmackDown | |
| 186 | Jacy Jayne | NXT 2.0 | |
| 187 | Brutus Creed | NXT 2.0 | |
| 188 | Julius Creed | NXT 2.0 | |
| 189 | Elton Prince | NXT 2.0 | |
| 190 | Wendy Choo | NXT 2.0 | |
Origins Autographs
| | | | |
| --- | --- | --- | --- |
| # | Player | Team | |
| 1 | Greg Valentine | Legend | |
| 2 | Ronda Rousey | WWE | |
| 3 | Molly Holly | Legend | |
| 4 | Kane | Legend | |
| 5 | Superstar Billy Graham | Legend | |
| 6 | John "Bradshaw" Layfield | Legend | |
| 7 | X-Pac | Legend | |
| 8 | Afa | Legend | |
| 9 | Sika | Legend | |
| 10 | Bushwhacker Luke | Legend | |
| 11 | Ivory | Legend | |
| 12 | Triple H | Legend | |
| 13 | Jerry Lawler | Legend | |
| 14 | Booker T | Legend | |
| 15 | The Godfather | Legend | |
| 16 | Million Dollar Man Ted DiBiase | Legend | |
| 17 | Kelly Kelly | Legend | |
| 18 | Beth Phoenix | Legend | |
| 19 | The Boogeyman | Legend | |
| 20 | Diamond Dallas Page | Legend | |
| 21 | Jimmy Hart | Legend | |
| 22 | Bret "Hit Man" Hart | Legend | |
| 23 | Road Dogg | Legend | |
| 24 | Brother Love | Legend | |
| 25 | Titus O'Neil | WWE | |
| 26 | Rikishi | Legend | |
| 27 | Lex Luger | Legend | |
| 28 | Brutus Beefcake | Legend | |
| 29 | Shane Helms | Legend | |
| 30 | Don Muraco | Legend | |
| 31 | Kurt Angle | Legend | |
| 32 | Kevin Nash | Legend | |
| 33 | Rob Van Dam | Legend | |
| 34 | Iron Sheik | Legend | |
| 35 | Wade Barrett | Legend | |
| 36 | Hacksaw Jim Duggan | Legend | |
| 37 | Michelle McCool | Legend | |
| 38 | Bushwhacker Butch | Legend | |
| 39 | William Regal | Legend | |
| 40 | Faarooq | Legend | |
Contenders Rookie Season Ticket
| | | | |
| --- | --- | --- | --- |
| # | Player | Team | |
| 1 | Axiom | NXT 2.0 | |
| 2 | Aoife Valkyrie | NXT UK | |
| 3 | Brutus Creed | NXT 2.0 | |
| 4 | Bron Breakker | NXT 2.0 | |
| 5 | Gable Steveson | Raw | |
| 6 | Jinny | NXT UK | |
| 7 | Lash Legend | NXT 2.0 | |
| 8 | Solo Sikoa | NXT 2.0 | |
| 9 | Stevie Turner | NXT UK | |
| 10 | Veer Mahaan | Raw | |
Donruss Optic Rated Rookie Signatures
| | | | |
| --- | --- | --- | --- |
| # | Player | Team | |
| 1 | Solo Sikoa | NXT 2.0 | |
| 2 | Ivy Nile | NXT 2.0 | |
| 3 | Julius Creed | NXT 2.0 | |
| 4 | Axiom | NXT 2.0 | |
| 5 | Odyssey Jones | NXT 2.0 | |
| 6 | Bron Breakker | NXT 2.0 | |
| 7 | Shanky | SmackDown | |
| 8 | Cora Jade | NXT 2.0 | |
| 9 | Aoife Valkyrie | NXT UK | |
| 10 | Gable Steveson | Raw | |
National Pride Signatures
| | | | |
| --- | --- | --- | --- |
| # | Player | Team | |
| 1 | Trish Stratus | Legend | |
| 2 | Shanky | SmackDown | |
| 3 | Iron Sheik | Legend | |
| 4 | Gunther | SmackDown | |
| 5 | Natalya | SmackDown | |
| 6 | Mark Coffey | NXT UK | |
| 7 | Shinsuke Nakamura | SmackDown | |
| 9 | Edge | Raw | |
| 10 | Gable Steveson | Raw | |
| 11 | Asuka | Raw | |
| 12 | William Regal | Legend | |
| 13 | man.soor | SmackDown | |
| 14 | Hulk Hogan | Legend | |
| 15 | Kurt Angle | Legend | |
| 16 | Wolfgang | NXT UK | |
| 17 | Hacksaw Jim Duggan | Legend | |
| 18 | Wade Barrett | Legend | |
| 19 | Finn Balor | Raw | |
National Treasures Memorabilia Autographs
| | | | |
| --- | --- | --- | --- |
| # | Player | Team | |
| 1 | Mandy Rose | NXT 2.0 | |
| 2 | Bianca Belair | Raw | |
| 3 | Roman Reigns | SmackDown | |
| 4 | Brock Lesnar | SmackDown | |
| 5 | Seth "Freakin" Rollins | Raw | |
| 6 | Carmella | Raw | |
| 7 | Drew McIntyre | SmackDown | |
| 8 | AJ Styles | Raw | |
| 9 | Finn Balor | Raw | |
| 11 | Kevin Owens | Raw | |
| 12 | Asuka | Raw | |
| 13 | Rey Mysterio | Raw | |
| 14 | Bron Breakker | NXT 2.0 | |
| 15 | Shinsuke Nakamura | SmackDown | |
| 16 | Charlotte Flair | SmackDown | |
| 17 | Edge | Raw | |
| 18 | Alexa Bliss | Raw | |
| 19 | Gable Steveson | Raw | |
| 20 | Becky Lynch | Raw | |
Chronicles Signatures
| | | | |
| --- | --- | --- | --- |
| # | Player | Team | |
| 1 | Joe Coffey | NXT UK | |
| 2 | Lita | Legend | |
| 3 | Johnny Rodz | Legend | |
| 4 | Million Dollar Man Ted DiBiase | Legend | |
| 5 | Kit Wilson | NXT 2.0 | |
| 7 | Joaquin Wilde | NXT 2.0 | |
| 8 | John Cena | WWE | |
| 9 | Xyon Quinn | NXT 2.0 | |
| 10 | Shawn Michaels | Legend | |
| 11 | JD McDonagh | NXT 2.0 | |
| 12 | Mankind | Legend | |
| 13 | Mark Coffey | NXT UK | |
| 14 | Rikishi | Legend | |
| 15 | Diamond Dallas Page | Legend | |
| 16 | Boa | NXT 2.0 | |
| 17 | Kayden Carter | NXT 2.0 | |
| 18 | Undertaker | Legend | |
| 19 | Rip Fowler | NXT 2.0 | |
| 20 | Bret "Hit Man" Hart | Legend | |
| 21 | Ron Simmons | Legend | |
| 22 | Nikki Bella | Legend | |
| 24 | Jerry Lawler | Legend | |
| 25 | Tyler Bate | NXT UK | |
| 26 | Giovanni Vinci | NXT 2.0 | |
| 27 | Ludwig Kaiser | SmackDown | |
| 28 | Batista | Legend | |
| 29 | Kane | Legend | |
| 30 | Brie Bella | Legend | |
| 31 | Elton Prince | NXT 2.0 | |
| 32 | Trish Stratus | Legend | |
| 34 | Road Dogg | Legend | |
| 35 | Wolfgang | NXT UK | |
| 36 | Jagger Reid | NXT 2.0 | |
| 37 | Wes Lee | NXT 2.0 | |
| 38 | Goldberg | WWE | |
| 39 | Kurt Angle | Legend | |
| 40 | Kevin Nash | Legend | |
Flux Auto
| | | | |
| --- | --- | --- | --- |
| # | Player | Team | |
| 1 | AJ Styles | Raw | |
| 2 | Ridge Holland | SmackDown | |
| 3 | Dominik Mysterio | Raw | |
| 4 | Ezekiel | Raw | |
| 5 | Rhea Ripley | Raw | |
| 6 | Titus O'Neil | WWE | |
| 7 | The Miz | Raw | |
| 8 | Damian Priest | Raw | |
| 9 | Roman Reigns | SmackDown | |
| 10 | Jinder Mahal | SmackDown | |
| 11 | Alexa Bliss | Raw | |
| 12 | Xia Li | SmackDown | |
| 13 | Drew Gulak | SmackDown | |
| 14 | Joaquin Wilde | NXT 2.0 | |
| 15 | Matt Riddle | Raw | |
| 16 | Butch | SmackDown | |
| 17 | Angelo Dawkins | Raw | |
| 18 | Jey Uso | SmackDown | |
| 19 | The American Nightmare Cody Rhodes | Raw | |
| 20 | Montez Ford | Raw | |
| 21 | Commander Azeez | NXT 2.0 | |
| 22 | Kevin Owens | Raw | |
| 23 | Sonya Deville | SmackDown | |
| 24 | Shotzi | SmackDown | |
| 25 | Zoey Stark | NXT 2.0 | |
| 26 | Apollo Crews | NXT 2.0 | |
| 27 | Jimmy Uso | SmackDown | |
| 28 | Dolph Ziggler | Raw | |
| 29 | MVP | Raw | |
| 30 | Happy Corbin | SmackDown | |
Phoenix Autographs
| | | | |
| --- | --- | --- | --- |
| # | Player | Team | |
| 1 | Reggie | Raw | |
| 2 | Theory | Raw | |
| 3 | Xia Li | SmackDown | |
| 4 | Doudrop | Raw | |
| 5 | Jagger Reid | NXT 2.0 | |
| 6 | Ivar | SmackDown | |
| 7 | Lacey Evans | WWE | |
| 8 | The American Nightmare Cody Rhodes | Raw | |
| 9 | Omos | Raw | |
| 10 | Big E | SmackDown | |
| 11 | Ridge Holland | SmackDown | |
| 12 | Commander Azeez | NXT 2.0 | |
| 13 | Happy Corbin | SmackDown | |
| 14 | Drew Gulak | SmackDown | |
| 15 | Joaquin Wilde | NXT 2.0 | |
| 16 | Jey Uso | SmackDown | |
| 17 | Montez Ford | Raw | |
| 18 | Rey Mysterio | Raw | |
| 19 | Otis | Raw | |
| 20 | Charlotte Flair | SmackDown | |
| 21 | Sheamus | SmackDown | |
| 22 | Damian Priest | Raw | |
| 23 | Sonya Deville | SmackDown | |
| 24 | Ezekiel | Raw | |
| 25 | Rip Fowler | NXT 2.0 | |
| 26 | Jimmy Uso | SmackDown | |
| 27 | MVP | Raw | |
| 28 | Bayley | WWE | |
| 29 | Xavier Woods | SmackDown | |
| 30 | Angelo Dawkins | Raw | |
| 31 | Titus O'Neil | WWE | |
| 32 | Dolph Ziggler | Raw | |
| 33 | Butch | SmackDown | |
| 34 | Erik | SmackDown | |
| 35 | Blair Davenport | NXT UK | |
| 36 | Jinder Mahal | SmackDown | |
| 37 | Nikki A.S.H. | Raw | |
| 38 | Bianca Belair | Raw | |
| 39 | Queen Zelina | Raw | |
| 40 | Apollo Crews | NXT 2.0 | |
Silhouettes
| | | | |
| --- | --- | --- | --- |
| # | Player | Team | |
| 1 | Grayson Waller | NXT 2.0 | |
| 3 | Jey Uso | SmackDown | |
| 4 | Tyler Bate | NXT UK | |
| 5 | Kevin Owens | Raw | |
| 6 | Ludwig Kaiser | SmackDown | |
| 7 | Apollo Crews | NXT 2.0 | |
| 8 | Omos | Raw | |
| 9 | Damian Priest | Raw | |
| 10 | Rick Boogs | SmackDown | |
| 11 | Happy Corbin | SmackDown | |
| 12 | Sheamus | SmackDown | |
| 13 | Jinder Mahal | SmackDown | |
| 14 | Von Wagner | NXT 2.0 | |
| 15 | Kofi Kingston | SmackDown | |
| 16 | Montez Ford | Raw | |
| 17 | Brutus Creed | NXT 2.0 | |
| 18 | Roderick Strong | NXT 2.0 | |
| 19 | Jagger Reid | NXT 2.0 | |
| 20 | Matt Riddle | Raw | |
| 21 | Indi Hartwell | NXT 2.0 | |
| 22 | Sonya Deville | SmackDown | |
| 23 | Julius Creed | NXT 2.0 | |
| 24 | Giovanni Vinci | NXT 2.0 | |
| 25 | Max Dupri | SmackDown | |
| 26 | Angelo Dawkins | Raw | |
| 27 | Joaquin Wilde | NXT 2.0 | |
| 28 | Raquel Rodriguez | SmackDown | |
| 29 | Dominik Mysterio | Raw | |
| 31 | Ivar | SmackDown | |
| 32 | Ciampa | Raw | |
| 33 | Alba Fyre | NXT 2.0 | |
| 34 | Zoey Stark | NXT 2.0 | |
| 35 | Lash Legend | NXT 2.0 | |
| 36 | Nikki A.S.H. | Raw | |
| 37 | Cora Jade | NXT 2.0 | |
| 38 | Rey Mysterio | Raw | |
| 39 | Erik | SmackDown | |
| 40 | Sami Zayn | SmackDown | |
Tools of the Trade Signatures
| | | | |
| --- | --- | --- | --- |
| # | Player | Team | |
| 1 | Queen Zelina | Raw | |
| 2 | Dolph Ziggler | Raw | |
| 3 | Ridge Holland | SmackDown | |
| 4 | Ilja Dragunov | NXT UK | |
| 5 | Shotzi | SmackDown | |
| 6 | Joe Gacy | NXT 2.0 | |
| 7 | Damian Priest | Raw | |
| 8 | Angelo Dawkins | Raw | |
| 9 | MVP | Raw | |
| 10 | Cameron Grimes | NXT 2.0 | |
| 11 | Reggie | Raw | |
| 12 | Doudrop | Raw | |
| 13 | Roderick Strong | NXT 2.0 | |
| 14 | IYO SKY | Raw | |
| 15 | The Miz | Raw | |
| 16 | Katana Chance | NXT 2.0 | |
| 17 | Lacey Evans | WWE | |
| 18 | Asuka | Raw | |
| 19 | Natalya | SmackDown | |
| 20 | Carmelo Hayes | NXT 2.0 | |
| 21 | Rhea Ripley | Raw | |
| 22 | Gigi Dolin | NXT 2.0 | |
| 23 | Santos Escobar | NXT 2.0 | |
| 24 | Jacy Jayne | NXT 2.0 | |
| 25 | Jey Uso | SmackDown | |
| 26 | Kayden Carter | NXT 2.0 | |
| 27 | Liv Morgan | SmackDown | |
| 28 | Theory | Raw | |
| 29 | Odyssey Jones | NXT 2.0 | |
| 30 | Butch | SmackDown | |
| 31 | Ricochet | SmackDown | |
| 32 | Gunther | SmackDown | |
| 33 | Shayna Baszler | SmackDown | |
| 34 | Jimmy Uso | SmackDown | |
| 35 | Veer Mahaan | Raw | |
| 36 | Xavier Woods | SmackDown | |
| 37 | Meiko Satomura | NXT UK | |
| 38 | Montez Ford | Raw | |
| 39 | Otis | Raw | |
| 40 | Dana Brooke | Raw | |
Hall of Fame Autographs
| | | | |
| --- | --- | --- | --- |
| # | Player | Team | |
| 1 | Hulk Hogan | Legend | |
| 2 | Stone Cold Steve Austin | Legend | |
| 3 | Iron Sheik | Legend | |
| 5 | DIESEL | Legend | |
| 6 | Trish Stratus | Legend | |
| 7 | Kurt Angle | Legend | |
| 8 | Rob Van Dam | Legend | |
| 9 | Diamond Dallas Page | Legend | |
| 10 | Million Dollar Man Ted DiBiase | Legend | |
It's All About The Game
| | | | |
| --- | --- | --- | --- |
| # | Player | Team | |
| 1 | Triple H | Legend | |
| 2 | Triple H | Legend | |
| 3 | Triple H | Legend | |
| 4 | Triple H | Legend | |
| 5 | Triple H | Legend | |
| 6 | Triple H | Legend | |
| 7 | Triple H | Legend | |
| 8 | Triple H | Legend | |
| 9 | Triple H | Legend | |
| 10 | Triple H | Legend | |
| 11 | Triple H | Legend | |
| 12 | Triple H | Legend | |
| 13 | Triple H | Legend | |
| 14 | Triple H | Legend | |
| 15 | Triple H | Legend | |
| 16 | Triple H | Legend | |
| 17 | Triple H | Legend | |
| 18 | Triple H | Legend | |
| 19 | Triple H | Legend | |
| 20 | Triple H | Legend | |
| 21 | Triple H | Legend | |
| 22 | Triple H | Legend | |
| 23 | Triple H | Legend | |
| 24 | Triple H | Legend | |
| 25 | Triple H | Legend | |
| 26 | Triple H | Legend | |
| 27 | Triple H | Legend | |
| 28 | Triple H | Legend | |
| 29 | Triple H | Legend | |
| 30 | Triple H | Legend | |
| 31 | Triple H | Legend | |
| 32 | Triple H | Legend | |
| 33 | Triple H | Legend | |
| 34 | Triple H | Legend | |
| 35 | Triple H | Legend | |
| 36 | Triple H | Legend | |
| 37 | Triple H | Legend | |
| 38 | Triple H | Legend | |
| 39 | Triple H | Legend | |
| 40 | Triple H | Legend | |
| 41 | Triple H | Legend | |
| 42 | Triple H | Legend | |
| 43 | Triple H | Legend | |
| 44 | Triple H | Legend | |
| 45 | Triple H | Legend | |
| 46 | Triple H | Legend | |
| 47 | Triple H | Legend | |
| 48 | Triple H | Legend | |
| 49 | Triple H | Legend | |
| 50 | Triple H | Legend | |