2020-21 Upper Deck SP Signature Edition Legends Hockey
Release Date: March 8, 2023
With the largest checklist of retired legends the market has seen in years, a bevy of hard-signed autographs, and an impressive bounty program featuring 1-of-1 hard-signed bounty award cards from eight of the greatest players in the history of the sport, SP Signature Edition Legends will be tough to keep in stock.
---
ABOUT THIS PRODUCT
2020-21 Upper Deck SP Signature Edition Legends Hockey
2020-21 Upper Deck SP Signature Edition Legends Hockey
BASE SET
Get your SP Signature Edition Legends collection started by building the massive 451-card Base Set consisting of 300 regular cards, 50 SP cards, 100 serially-#'d All-Time Future Watch Auto cards and one serially-#'d.
All-Time Future Watch Mystery Bonus card!
Keep an eye out for Gold Foil and hard-signed Gold Spectrum Foil Auto parallels of the regular and SP cards!
SP'S Gold Foil Parallel          ALL-TIME FUTURE WATCH AUTOS Tier 2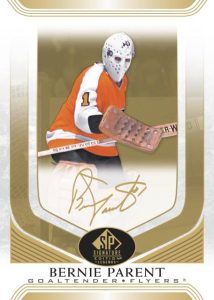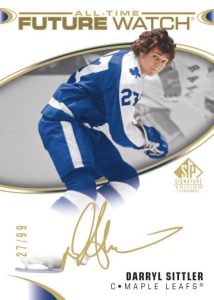 '97 LEGENDS SIGNATURES
Collect the next 100 cards (AL-161 – AL-260) of this living set. Every card features a hard-signed autograph!
CENTURY LEGENDS Dual Signatures
This set consists of four subsets – Signatures, Dual Signatures, Triple Signatures and Quad Signatures. The Signatures cards each feature a hard-signed autograph while the low-#'d Dual, Triple and Quad cards boast label autos and incredible pairings!
UD CANVAS LEGENDS Auto Parallel
This pairing of a legendary UD insert set with legendary players will create a buzz among collectors. There is also a hard-signed parallel set that will be coveted by all!
DECAGONS Gold Auto Parallel
A die-cut set highlighting the decade most associated with each legendary player. Keep an eye out for hard-signed Gold Auto parallels!
EVOLVE Silver Spectrum Foil Auto Parallel
Each card sports three photos which span the career of each player. In addition to the regular set, collect the low-#'d Gold Foil and Silver Spectrum Foil Auto (hard-signed) parallel sets.
CONFIGURATION
5 Cards per Pack
18 Packs per Box
BOX BREAK (on average)
4 UD Canvas Legends Cards
3 Dominant Digits Cards
3 Evolve, Life After Hockey and/or Behind the Boards Cards
3 Base Set – Gold Foil Parallel Cards
At Least 2 Autograph Cards
At Least 1 Profiles Bounty Card
1 Rare Hit Card
ADDITIONAL INSERT SETS
In addition to those featured, you can also collect the following insert sets:
Behind the Boards
Dominant Digits
Life After Hockey