2021-22 Panini Impeccable Soccer
Impeccable returns for the 2021-22 Premier League season with a full roster of limited inserts, on-card autographs, metal cards, and much more!
---
ABOUT THIS PRODUCT
2021-22 Panini Impeccable Soccer
All 20 Premier League clubs are included in the collection. Collect them all, starting with a 150-card base set featuring Hobby-exclusive parallels.
Impeccable has 7 On-Card Autographs sets that are exclusive to Hobby boxes. Collect Premier League stars of past and present.
Be on the lookout for Gold bar case hits, featuring one ounce of precious metal embossed with the Premier League logo alongside one of the best players in the league.
2021-22 Panini Impeccable Soccer
BASE CARDS
Collect a 150-card base with players from all 20 Premier League teams.
BASE SET                                                  BASE SET PLATINUM – Hobby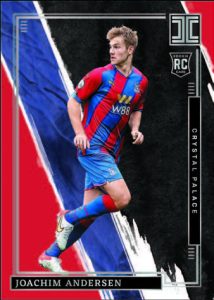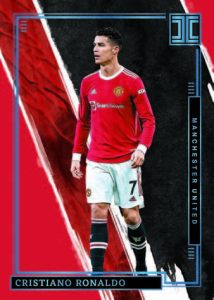 ROOKIE METAL
The best of the best future stars make up the Rookie Metal insert.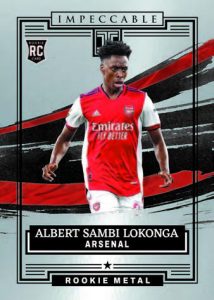 STAINLESS STARS SIGNATURES

Stars current and future round out Stainless Stars Signatures, cards made entirely out of metal.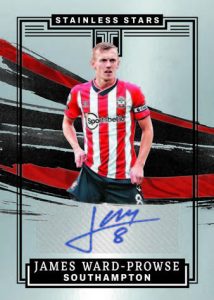 PREMIER LEAGUE LOGO – GOLD

– HOBBY
Look for the ultra-rare Premier League Logo cards that showcase authentic gold along with one of the league's best players.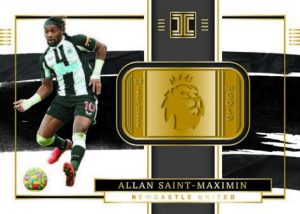 AUTOGRAPH INSERTS
There are 7 on-card autograph inserts in Impeccable soccer including Impeccable Club History Autographs, Impeccable Stats Autographs, and Immortal Ink.
IMPECCABLE JERSEY NUMBER           INDELIBLE INK
HOBBY                                                               HOBBY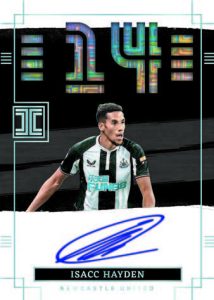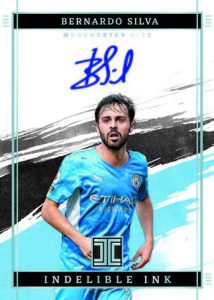 AUTOGRAPH
With 5 autograph or memorabilia cards per box, there is plenty of opportunity to collect a piece of the sport.
IMPECCABLE TRIPLE                  IMPECCABLE MATERIALS
AUTOGRAPHS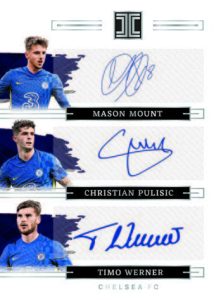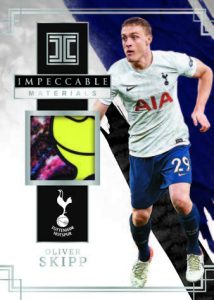 HOBBY  CONFIGURATION
8 CARDS PER PACK
1 PACK PER BOX
3 BOXES PER CASE
BOX BREAK
4 AUTOGRAPHS
1 ADDITIONAL AUTOGRAPH OR MEMORABILIA
1 INSERT
1 PARALLEL
1 BASE CARD