2021-22 Topps Inception Overtime Elite Basketball
Release Date: August 24, 2022
2021/22 Topps Inception Overtime Elite provides collectors with the first ever autograph/relic hybrid product for Overtime Elite, with this beautifully designed set featuring all of the league's top players!
---
ABOUT THIS PRODUCT
2021-22 Topps Inception Overtime Elite Basketball
What is Overtime Elite?
Overtime Elite, or OTE, is a transformative new sports league under the umbrella of Overtime and its 55M+ followers across social platforms. OTE offers 27 of the world's top young basketball players the opportunity to turn pro, earn six-figure salaries, and develop as basketball players and brands as they prepare for the next level; all while competing against top domestic and international competition.
2021-22 Topps Overtime Elite Inception Basketball
Collect the entire 100 card Base Set along with a variety of Autograph and Autograph Relic cards!
Find 2 Autograph or Autograph Relic Cards in every box!
Look out for the first cards of Basketball's future stars including projected lottery picks such as Jalen Lewis, Jean Montero, Ausar
Thompson, and many more!
BASE CARDS
Base Set Parallels
Blue Parallel ––#'d to 199
Yellow Parallel ––#'d to 150
Magenta Parallel ––#'d to 99
Red Parallel ––#'d to 75
Orange Parallel ––#'d to 50
Aqua Parallel ––#'d to 25
Inception Parallel ––#'d 1 of 1
Printing Plates ––#'d 1 of 1
Autographs
Base Autographs Varied #' ing
Magenta Parallel ––#'d to 99
Red Parallel ––#'d to 75
Orange Parallel ––#'d to 50
Blue Parallel ––#'d to 25
Aqua Parallel ––#'d to 10
Inception Parallel ––#'d 1 of 1
Inception Silver Signings Varied #' ing
Gold Ink Parallel ––#'d to 25
Gold "Inscription" Parallel ––#'d 1 of 1
Autograph Relic Card
Inception Autograph Relic Cards Varied #' ing
Magenta Parallel Varied #' ing
Red Parallel ––#'d to 25
Sneaker Relic Parallel ––#'d to 25
Orange Parallel ––#'d to 10
Sneaker Relic Orange Parallel ––#'d to 25
Blue Parallel ––#'d to 6
Inception Parallel ––#'d 1 of 1
Sneaker Relic Logo Parallel ––#'d 1 of 1
Inception Autograph Jumbo Relic Cards Varied #' ing
Orange Parallel ––#'d to 25
Blue Parallel –#'d to 10
Jumbo Basketball Relic Parallel –#'d to 5
Jumbo Net Relic Parallel –#'d to 5
Sneaker Parallel Orange –#'d to 2
Sneaker Brand Logo –#'d 1 of 1
Inception Parallel –#'d 1 of 1
Inception Autograph Team Name Book Cards – #'d to 5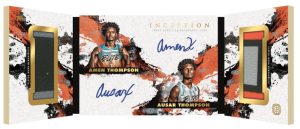 Jersey Nameplate Parallel – Varied #'ing
Logo Parallel – #'d 1-of-1
Jersey OTE Logo Parallel – #'d 1-of-1
Jersey Laundry Tag Parallel – #'d 1-of-1
Inception Dual Autograph Relic Book Cards – #'d to 5
Inception Parallel – #'d 1-of-1
Inception Autograph Game Ball Relic Cards – #'d to 25
Logo Parallel – #'d 1-of-1
Net Relic Parallel – #'d to 5
Gameday Gear Autograph Relic Book Cards – #'d to 5
Inception Parallel – #'d 1-of-1