2021-22 Upper Deck Artifacts Hockey
Release Date: September 29, 2022
2021-22 Upper Deck Artifacts Hockey features a diverse 230-card Base Set, including rookie redemption cards for new-skating 2021-22 rookies, and an expanded parallel lineup!
---
ABOUT THIS PRODUCT
2021-22 Upper Deck Artifacts Hockey
2021-22 Upper Deck Artifacts Hockey
BASE SET

The Base Set breaks down as follows (subject to change):
Base Set (1-100) | Base Set Stars (101-145) | Base Set Legends (146-160) | Base Set Rookies (161-180) | Base Set Rookie Redemptions (181-230)
Collect up to 12 non-auto/mem Base Set parallels, including nine #'d to 99 or less, and a wide range of autograph and/or memorabilia (including premium game-worn memorabilia) parallels!
Look for a variety of memorabilia, including jersey swatches, patch swatches and fight straps.
BASE SET ROOKIE REDEMPTIONS
Look for Rookie Redemption cards for players that debut during the 2021-22 season.
The top six prospects in the Rookie Redemption program will be featured on a full array of auto, memorabilia and auto/memorabilia variation cards, highlighted by the prized Purple Foil Patch-Patch and Black Foil Patch-Tag autograph cards!
 STORIED SCRIPTS
We've added some stellar new insert sets, highlighted by the Clear Cut Artifacts Rookies acetate set comprised of three subsets: 2021-22 Clear Cut Artifacts Rookies, 2020-21 Clear Cut Artifacts Rookie Update and 2005-06 Clear Cut Retro Artifacts Rookies!
Also, keep an eye out for the all-new Net Gear, Storied Scripts and Signs of Success cards!
Net Gear is a goalie-specific jersey insert featuring a mix of active stars and retired legends.
Look for low-#'d auto versions.
Storied Scripts is a hard-signed autograph set #'d to 25 and includes some of the greatest players in the history of the sport.
The low-#'d Signs of Success set features autos from active stars and top rookies. Collectors will be chasing these cards – all of which are Hobby Exclusive!
ARENA ARTIFACTS
The popular Arena Artifacts insert is back! This year's edition commemorates the historic Joe Louis Arena, home to the Detroit Red Wings from 1979-2017.
As it was the home of some of the greatest teams in NHL history, Joe Louis Arena hosted the Stanley Cup Finals an impressive six times.
Each card in this special set #'d to 79 features a legendary Red Wings player (who played in The Joe) alongside a piece of a seat relic from the vaunted arena.
AURUM SIGNATURES ROOKIES Rainbow Parallel
Look for rare Aurum Signatures cards featuring retired legends, active stars and top 2021-22 rookies – all #'d to just 25!
Also keep an eye out for Aurum Signatures Duals cards #'d to just 3 and featuring some incredible teammate pairings, including retired legends.
YEAR ONE ROOKIE SWEATERS Premium
Collect Year One Rookie Sweaters cards featuring top 2020-21 rookies accompanied by either a jersey or premium swatch derived from actual rookie season game-worn jerseys!
The cards featuring premium swatches are #'d to 25.
BOUNTY PROGRAM
Earn highly-sought after, Hobby Exclusive Achievement Cards! For complete 2021-22 Artifacts Bounty Mission details, please visit UpperDeckBounty.com on or after release date.
 AURUM BOUNTY CARD     AURUM ROOKIES #49 BOUNTY ACHIEVEMENT CARD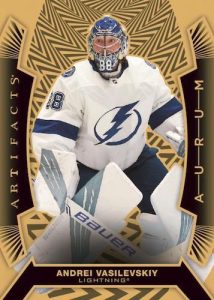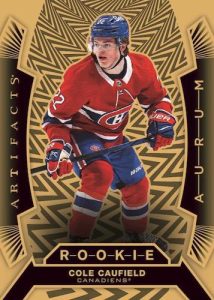 The popular Aurum Bounty Card Program returns with a 48-card set-within-a-set! Each card features the player etched out in Gold Light FX.
The Mission
Collect the complete 48-card Aurum Bounty set! Each card will feature a scratch-off bounty code.
Achievements to Earn
Each card will feature a scratch-off bounty code.  Once you've entered all 48 unique codes at UpperDeckBounty.com, you will earn Aurum Rookie cards #49 and #50. As a bonus, those who complete this mission the fastest will have a shot to earn the following bonus achievements in addition to the two rookie cards:
First 3
One 12-card Aurum set + one Aurum Autograph card + one Aurum Dual Autograph card.
Next 7
One 12-card Aurum set + one Aurum Autograph card.
Next 15
One 12-card Aurum set.
CONFIGURATION:
4 cards per pack
8 pack per box
 BOX BREAK:
4 Serial #'d Cards (1 #'d to 99 or less)
3 Autograph, Memorabilia or Aurum Cards
1 Rookie Redemption Card -or- Clear Cut Acetate Card