2021-22 Upper Deck SP Game Used Hockey
Release Date: December 14, 2022
2021-22 Upper Deck SP Game Used Hockey sports a 200-card base set consisting of star veterans, legends and rookies:
Base Set (1-100)
Authentic Legends (101-120)
Authentic Rookies (121-200)
---
ABOUT THIS PRODUCT
2021-22 Upper Deck SP Game Used Hockey
2021-22 Upper Deck SP Game Used Hockey
BASE SET
Each card is serially-#'d to the player's jersey number and the jersey-#'d card (e.g. 97/97) features an autograph!
Collect an array of incredible parallels as well, highlighted by a number of autograph, memorabilia and autograph & memorabilia parallels.
BASE SET Purple Fragment      AUTHENTIC ROOKIES             AUTHENTIC LEGENDS Autograph
Auto Parallel                                      Jersey Parallel                              Premium Memorabilia Parallel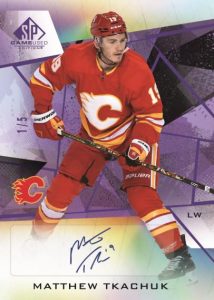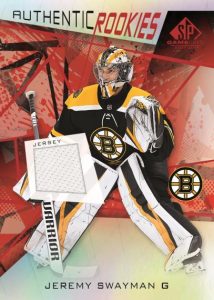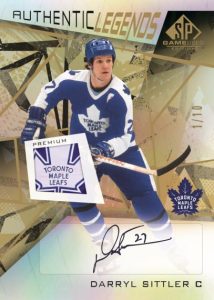 INKED ROOKIE SWEATERS Patch Parallel
The long-running and serially-#'d Rookie Sweaters insert is a collector favorite.
Build the regular set and the low-#'d Patch and Tag parallel sets – each of which feature autographs.
ROOKIE BLENDS Regular
If you're looking for more rookie memorabilia cards featuring top 2021-22 rookies, keep an eye out for regular Rookie Blends cards featuring a jersey swatch behind a "2021" die-cut window, as well as Patch and Tag versions sporting a "Rookie" die-cut window.
PURITY Platinum Parallel
This brand new insert set features star veterans, rookies and legends on a unique tech design.
Be the first to collect the regular set as well as the serially-#'d Gold, Platinum and Autograph parallel sets.
DRAFT DAY MARKS Rookies
Search for a new wave of autographed Draft Day Marks cards featuring veterans #'d to 10 and rookies #'d to 35 (per manufactured letter). Collect the full manufactured nameplate of some of your favorite players!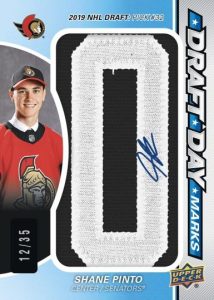 SUPREME PATCHES
 The always-popular Supreme Patches cards, featuring massive game-used patches and #'d to just 15, will be a valuable addition to any collection.
Keep an eye out for even rarer Supreme Materials Variant cards!
2021 LAKE TAHOE GAMES Net Cord
Look for cards featuring banner (including auto & auto jersey versions), net cord and puck material from the 2020 Stanley Cup® Playoffs, and net cord and puck material from the NHL Outdoors at Lake Tahoe games (BOS vs. PHI and VGK vs. COL).
CONFIGURATION
1 Pack per Box
6 Cards per Pack
 BOX BREAK (on average)
3 Memorabilia and/or Purity Insert Cards
2 Base Set, Base Set Parallel and/or Retro Rookie Cards (All Serially-#'d)
1 Autograph or Premium Memorabilia Card