Description
2021 Panini Gold Standard Football
Although hits cover most of the checklist, there is a base set to start things off. At 200 cards, it's a big one for a premium release. The first half is a mix of current stars and retired greats. One hundred rookies are also in the set. All base cards are numbered to 99.
Platinum – /75
White Gold – /49
Rose Gold – /25
Emerald – /11 (one per 1st Off the Line box)
Violet – /10
Sapphire – /5
Black – 1/1
Rookie Autographs are also available for select first-year players. Base versions have no more than 199 copies with additional Platinum (/49 or less), Rose Gold (/25 or less), Sapphire (/5 or less) and Black (1/1) parallels.
Autographs and Memorabilia Cards
Rookie Jersey Autographs (/149) are one of Gold Standard's anchors. Keeping with tradition, there are similar but separate Double and Triple (/149) versions that bring multiple swatches. In all three instances, Prime (/49 or less) and Prime Tag (1/1) parallels are also on the checklist.
The "gold" theme runs throughout the other hits in 2021 Gold Standard Football.
Gold Scripts (/99 or less) use gold ink to display signatures. Platinum (/49 or less) and Black (1/1) versions can also be found.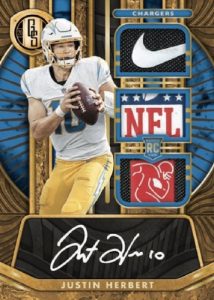 AU and Hallmarks are among the other autograph inserts on the checklist.
As for strictly memorabilia set, there's Gold Gear, Gold Rush, Golden Pairs, Hall of Gold Threads, Mother Lode and White Gold. All have additional Prime (/49 or less) and Prime Tag (1/1) parallels.
Additional Inserts
2021 Gold Standard Football has some tough insert sets as well.
Opulence Rookies draw's from Panini's basketball portfolio. Featuring key draft standouts, base versions are numbered to 39 with additional Holo Gold (/10), Emerald (/5) and Platinum (1/1) versions available.
Double Eagle and Liquidity are other themes.
12 Boxes Per Case, 1 Pack Per Box, 7 Cards Per Pack.