2021 Panini USA Baseball Stars and Stripes Hobby Box
This box comes with two 2022 Father's Day packs!
This a live personal box break!
Shipping all cards!
Reserve 2021 Panini USA Baseball Stars and Stripes Hobby Box now for 3 minutes before anyone else does!
---
ABOUT THIS PRODUCT
2021 Panini USA Baseball Stars and Stripes
2021 Stars & Stripes returns to showcase some of the greatest baseball talent in the country from 13U to the Collegiate National Team!
Each year USA Baseball secures the top talent to represent the nation in international competition. This is showcased every year in the July draft where numerous players are selected in the first few rounds!
Look for autographs from the current Collegiate National Team and 18U National Team with rare Blue, Red and Green ink parallels!
USA Stars & Stripes features a variety of exclusive memorabilia and players, many of whom this will be their first certified card or autograph on the market!
Look for 5 autographs or memorabilia cards per box, on average.
AUTOGRAPHS
Every year Stars & Stripes Baseball is filled with future draft and collegiate stars, and 2021 is no different. Look for autos from each age group from the National Development Program through Collegiate!
18U NATIONAL TEAM                   CNT SIGNATURES                   NATIONAL TEAM DEV. PROGRAM
SIGNATURES RED INK                  BLACK INK                                   SIGNATURES GREEN INK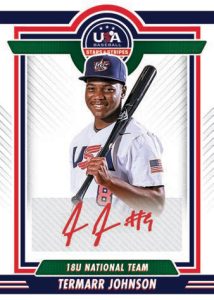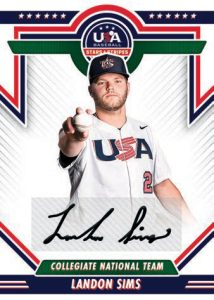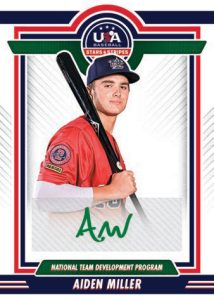 BASE
The Base set features three current USA Baseball national teams: Collegiate, 18U and 15U.
USA BB ALUMNI SIGNATURES BLUE INK
This 8-card set pays homage to some of the most distinguished players to put on the USA Baseball uniform!
WHAMMY
With a checklist full of former USA Baseball greats and Hall of Famers, hunt for the ultra rare insert Whammy.
PLAYER MEMORABILIA SWATCHES 
Franchise Legends Signatures, a star-studded autograph set that features some of the biggest names in NFL History!
STARS & STRIPES PRIME                  USA BB MATERIALS                 USA BB SILHOUETTES
SIGNATURES                                            HOLO BLUE                                   SIGNATURES PRIME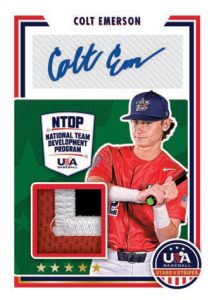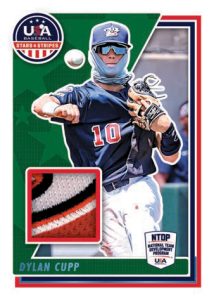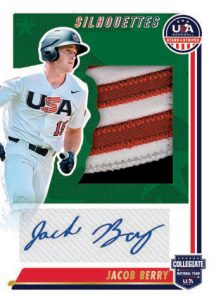 HOBBY CONFIGURATION
8 CARDS PER PACK
5 PACKS PER BOX
20 BOXES PER CASE
BOX BREAK
5 AUTOGRAPHS OR MEMORABILIA
30 BASE CARDS
5 PARALLELS