2022-23 Panini Prizm Premier League Soccer
Release Date: March 24, 2023
2022-23 Panini Prizm Premier League Soccer returns with the uber-popular Opti-chrome printing technology and one of the world's best leagues is a collector's dream.
---
ABOUT THIS PRODUCT
2022-23 Panini Prizm Premier League Soccer
Look for a 300-card base set featuring popular players from all 20 teams. There are many Hobby-exclusive parallels to collect, including the elusive Prizms Black (#'d 1/1).
Collect fan-favorite footballers in inserts including the brand new Fractal and Kaleidoscopic.
Find a deep roster of signers, from club legends to the stars of today. Open one certified autograph per box.
Hunt for the ultra-rare and incomparable Color Blast cards. Also, be on the look out for a new limited insert, Groovy, paying homage to the swinging '60s and '70s.
2022-23 Panini Prizm Premier League Soccer
BASE CARDS
The Prizm base set is comprised of 300 cards, featuring players from each of the 20 Premier League teams.
BASE SET                                                    BASE SET PRIZMS SILVER              BASE SET PRIZMS BLACK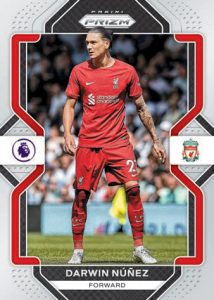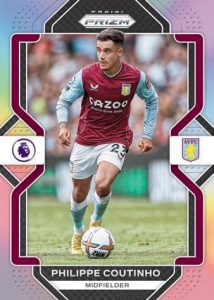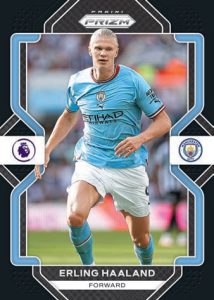 COLOR BLAST – Hobby Exclusive
The ultra-rare Color Blast is like a unicorn. Rare to find and more magnificent than can be imagined. This insert features 20 top players and the standout Color Blast design that collectors love.
GROOVY – Hobby
Taking a page from the past, the new ultra-rare Groovy insert plays up the juxtaposition of '60s design with the best footballers of today.
SIGNATURES
Look for four different autograph sets in Prizm Premier League: Signatures, Flashback Autographs, Club Legends Signatures and the short-printed Dual Signatures.
KALEIDOSCOPIC
New for 2022-23, the Kaleidoscopic Insert takes inspiration from the Prizm name with a colorful geometric design highlighting some of the best players in the world.
FIREWORKS
With a striking design and some of the brightest stars in the league, Fireworks is an insert to seek out.
INSTANT IMPACT
Match momentum can turn on a dime, and Instant Impact celebrates the players who can provide that spark.
HOBBY CONFIGURATION
12 CARDS PER PACK
12 PACKS PER BOX
12 BOXES PER CASE
BOX BREAK
1 AUTOGRAPHED CARD
4 BASE PRIZMS SILVER
5 NUMBERED BASE PRIZMS
8 ADDITIONAL BASE PRIZMS
6 INSERT CARDS