2022-23 Upper Deck Artifacts Hobby Hockey
Release Date: January 25, 2023
Each box will contain, on average, four (4) serially-#'d base set and/or base set parallel cards, including one (1) #'d to 99 or less.
---
ABOUT THIS PRODUCT
2022-23 Upper Deck Artifacts Hobby Hockey
Regular (1-100) | Stars (101-135; #'d to 599) | Goalies (136-155; #'d to 599) | Legends (156-170; #'d to 599) | Rookies (171-200; #'d to 999) | Rookie Redemptions (201-250)
The parallel/variant lineup is extensive and loaded with colorful, serially-#'d sets, including many with autographs and/or premium memorabilia. Even the top six prospects in the Rookie Redemption program will be featured on a full array of auto, memorabilia and auto/memorabilia cards. All of the parallels sporting autographs and/or memorabilia are Hobby-exclusive!
022-23 Upper Deck Artifacts Hobby Hockey
BASE SET STARS/GOALIES/LEGENDS Indigo Parallel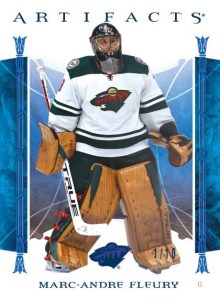 BASE SET STARS/GOALIES Material Emerald Parallel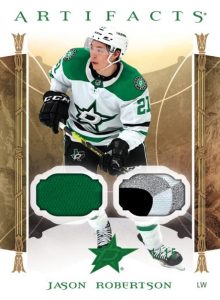 BASE SET ROOKIES Material Orange Auto Parallel (Tier 1)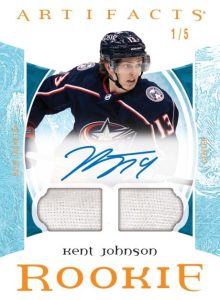 GAME TICKET ARTIFACTS Modern
Fans and collectors alike will love the new Hobby-exclusive Game Ticket Artifacts set! Each card features an authentic game ticket relic from a notable game in the career of an active or retired superstar player.
The set is serially-#'d and consists of two subsets – Modern (1989-2021) and Vintage (1949-1988).
NHL® REMNANTS Premium Parallel
The popular NHL® Remnants memorabilia set is back! Each card features a top active veteran alongside a game-used jersey swatch.
Collect both the regular set and the low-#'d Premium parallel featuring a game-used patch swatches!
TOP TIER ROOKIE SIGNATURES
Keep an eye out for rare Top Tier Rookie Signatures cards featuring high-end 2022-23 rookies…and even rarer 2021-22 Updates to the Top 12 Rookie Signatures set!
The popular Aurum Bounty Card Program returns with a 48-card set-within-a-set! Each card features the player etched out in Gold Light FX.
THE MISSION: Collect the complete 48-card Aurum Bounty set!
Each card will feature a scratch-off bounty code. Once you've entered all 48 unique codes at UpperDeckBounty.com, you will be awarded Aurum Rookies cards #49 and #50. As a bonus, if you're one of the first to complete the mission, you will have a shot to earn the following achievements in addition to the two rookie cards:
First 3 One (1) 12-card Aurum Set + One (1) Aurum Autograph card + One (1) Aurum Dual Autograph card
Next 7 One (1) 12-card Aurum Set + One (1) Aurum Autograph card
Next 10 One (1) 12-card Aurum Set
AURUM Bounty Card                  AURUM ROOKIES Bounty Achievement Card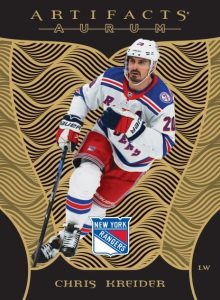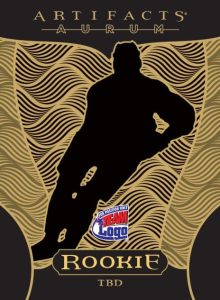 AWARD WINNERS AUTOGRAPHS
2022-23 Artifacts® features five hard-signed autograph insert sets, all of which are Hobby-exclusive living sets. This includes the all-new Award Winners Autographs set, a planned new living set which will consist of veterans and retired players who have won a major NHL award.
Each card, #'d to 25, will highlight an award won.
BASE SET ROOKIE REDEMPTIONS Regular
Look for Rookie Redemption cards for players that debut during the 2022-23 season.
The top six rookies in the redemption program will be featured on a full array of auto, memorabilia and auto/memorabilia cards, highlighted by the prized Purple Auto (Patch-Patch) and Black Auto (Patch-Tag) cards!
CONFIGURATION
4 Cards per Pack – 8 Packs per Box
Box Break
4  Serially-#'d Base Set/Base Set Parallel Cards (Including 1 #'d to 99 or Less)
3  Autograph, Memorabilia and/or Tech Insert Cards
1 Non-Auto/Mem Rookie Redemption Card -or-  Clear Cut Acetate Card
Every Hobby Pack Delivers a Hit!
 ADDITIONAL HIGHLIGHT
This year's Arena Artifacts set commemorates the historic Boston Garden, home to the Boston Bruins from 1928-1995. Home of some of the greatest teams in NHL history, Boston Garden hosted the Stanley Cup Final an impressive 17 times. Each low-#'d card in this special set features a legendary Bruins player (who played in the Garden) alongside a relic from the legendary facility.