2022 Bowman Chrome HTA Choice Baseball
Release Date: November 25, 2022
Bowman Chrome builds on a reputation of being one of the most prolific products to find all the top international and domestic prospect talent, with another stellar release in 2022!
---
ABOUT THIS PRODUCT
2022 Bowman Chrome HTA Choice Baseball
Collect fresh new autographs for some of the game's top global prospects!
Find 3 Chrome Autograph cards per Hobby HTA Box!
2022 Bowman Chrome HTA Choice  Baseball
AUTOGRAPHS
Chrome Prospect Autograph
Refractor Parallel -#'d to 499
Speckle Refractor Parallel -#'d to 299
Purple Refractor Parallel -#'d to 250
Blue RayWaveRefractor Parallel -#'d to 150 NEW!
HTA Choice Refractor Parallel -#'d to 150 –HTA Exclusive!
Atomic Variation Refractor -#'d to 100
Green Refractor -#'d to 99
Green Atomic Refractor Parallel -#'d to 99 –HTA Exclusive!
Yellow Refractor Parallel -#'d to 75
Gold Refractor Parallel -#'d to 50
Gold Shimmer Refractor Parallel -#'d to 50 –HTA Exclusive!
Orange Wave Refractor Parallel -#'d to 25 –HTA Exclusive!
Red Refractor Parallel -#'d to 5
Red Shimmer Refractor Parallel -#'d to 5
Red Wave Refractor Parallel -#'d to 5 –HTA Exclusive!
Black Mojo Refractor Parallel -#'d 1-of-1 –HTA Exclusive!
SuperFractorParallel -#'d 1-of-1
 Chrome Rookie Autograph
Refractor Parallel -#'d to 499
Blue Refractor Parallel -#'d to 150
Green Refractor Parallel -#'d to 99
Gold Refractor Parallel -#'d to 50
Red Refractor Parallel -#'d to 5
SuperFractorParallel -#'d 1-of-1
AUTOGRAPHS & AUTOGRAPH RELICS
Prime Chrome Signatures -#'d to 50
Orange Refractor -#'d to 25 –HTA Only!
SuperFractor-#'d 1-of-1
 It Came to the League Autographs –Varied #'ing
Orange Refractor -#'d to 25
SuperFractor-#'d 1-of-1
 Shades of Greatness Autographs –#'d to 99
Orange Refractor -#'d to 25
SuperFractor-#'d 1-of-1 
2021 AFL Fall Stars Autographs –Varied #'ing
SuperFractor-#'d 1-of-1
2021 AFL MVP Short Print Autograph -#'d to 100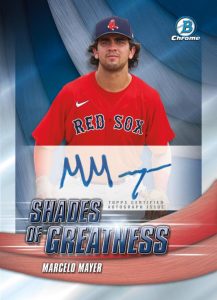 Bowman Ascensions Autographs –Varied #'ing
SuperFractor-#'d 1-of-1
 2022 Bowman InvictaAutograph Variations –Varied #'ing
Gold Atomic Refractor -#'d to 50
Red Refractor -#'d to 5
SuperFractor-#'d 1-of-1
 All-American Game Autographs –Varied #'ing
Chrome Auto Relics –Varied #'ing
Gold Refractor Parallel -#'d to 50
SuperFractorParallel -#'d 1-of-1
 2021 AFL Relics Autograph Parallel –Varied #'ing
SuperFractorParallel –#'d 1-of-1