2022 Panini Chronicles Baseball
Release Date: September 16, 2022
2022 Panini Chronicles Baseball will deliver a variety of inserts and parallels from over 20 different programs for a unique collecting experience.
---
ABOUT THIS PRODUCT
2022 Panini Chronicles Baseball
Look for players to be featured on 4 different substrate types, including the popular opti-chrome and acetate
Find on-card autographs from top rookies like Wander Franco, Matt Brash and Oneil Cruz paired with memorabilia in Spectra Rookie Jersey Autographs
Look for a mix of C2S, Opti-Chrome, Holographic Filmboard and Acetate cards in each pack!
Look for 3 autographs and 1 memorabilia card per box, on average!
2022 Panini Chronicles Baseball
AUTOGRAPHS
Chronicles Baseball delivers numerous autograph and autograph/memorabilia sets that feature top rookies and prospects like Wander Franco, Josiah Gray, Bobby Witt Jr and more!
PROSPECT JERSEY AUTOGRAPHS GOLD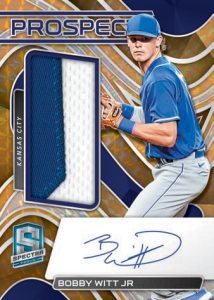 ORIGINS ROOKIE JUMBO MATERIAL AUTOGRAPHS BLUE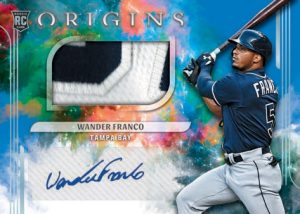 TITAN NEON ORANGE- FOTL EXCLUSIVE PARALLEL
You'll find 4 different substrates used in Chronicles; C2S, holoboard, Opti-chrome and acetate!
BASE SPECTRA META- HOBBY EXCLUSIVE PARALLEL
Spectra's 100-card base set features every top name in the game like Fernando Tatis Jr, Ronald Acuna Jr, Juan Soto and more!
OBSIDIAN AUTOGRAPHS ELECTRIC ETCH ORANGE- FOTL EXCLUSIVE PARALLEL
Headlined by budding superstars Steven Kwan and Seiya Suzuki, Obsidian Autographs is on-pace to yet again be one of the most sought-after sets in the program.
CLEARLY DONRUSS RATED ROOKIES
Clearly Donruss Rated Rookies showcases 25 of this season's top rookies on an acetate substrate.
VERTEX
Look for some new brands to be rotated into Chronicles this year like Vertex, Marquee, Essentials and more
GOLD RUSH
With a taste of the 19 century, collectors will want to race to find the ultra-rare insert Gold Rush!
Hobby Configuration
8 CARDS PER PACK
6 PACK PER BOX
16 BOXES PER CASE
 Hobby Guarantees
3 AUTOGRAPHS
1 MEMORABILIA
First Off the Line Configuration
8 CARDS PER PACK
6 PACK PER BOX
16 BOXES PER CASE
First Off the Line Guarantees
1 OBSIDIAN ELECTRIC ETCH ORANGE AUTOGRAPH
2 OTHER AUTOGRAPHS
1 MEMORABILIA
1 OPTI-CHROME ORANGE PARALLEL