2022 Panini Donruss Optic Baseball
Release Date: December 7, 2022
A fan favorite, Donruss Optic baseball showcases all the elite talent in today's game on our highly sought-after opti-chrome cards!
---
ABOUT THIS PRODUCT
2022 Panini Donruss Optic Baseball
Find on-card autographs from all the top rookies and prospects in Rated Rookies Signatures and Rated Prospects Signatures.
Featuring a checklist loaded with the best names in the game, look for beautifully designed inserts like Bomb Squad, Mythical and more.
Each case will have 2 autograph hot boxes, which will contain 5 autos/box, and 2 Prizm hot boxes, which will contain 20 #'d parallels/box
2 autographs per box, on average
2022 Panini Donruss Optic Baseball
BASE CARD
In our 210-card base set, you'll find 110 of today's best players in the Base set, the top 70 rookies in Rated Rookies and the best each team has to offer featured in our classic 30-card set Diamond Kings!
DIAMOND KINGS                          RATED ROOKIES PHOTON                         BASE
PINK VELOCITY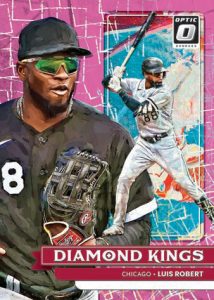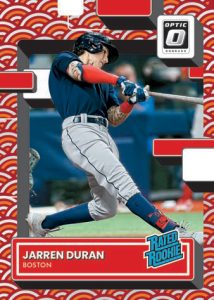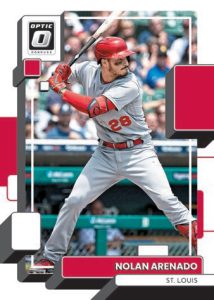 RATED PROSPECTS SIGNATURES CAROLINA BLUE VELOCITY – Hobby Exclusive Parallel
Rated Prospects Signatures showcases autographs from 10 of the brightest young players in the game today!
RATED ROOKIES SIGNATURES GOLD
From Wander to Luis Gil to Brandon Marsh, Rated Rookies Signatures features on-card autos from a strong 2022 rookie class!
RETRO 1981 SIGNATURES HOLO
Retro 1981 Signatures features a 28-card checklist filled with numerous current and retired vets mixed with stud rookies from this year's class
MYTHICAL HOLO
Sometimes there are some truly unique and rare talents that take the field, some of those Mythical players are showcased here in this 25-card set
THE ELITE SIGNATURE SERIES GOLD VINYL – Hobby Exclusive Parallel
With names like Shohei Ohtani, Rafael Devers, Jose Ramirez and more, the Elite Series Signatures truly lives up to its name!
NEON
Find ultra-rare inserts in the Fort Knox and Neon sets!
Hobby Configuration
4 CARDS PER PACK
20 PACKS PER BOX
12 BOXES PER CASE
BOX BREAK
2 AUTOGRAPHS
10 PRIZM PARALLELS
20 INSERTS