2022 Panini Immaculate UFC
Release Date: February 15, 2023
2022 Immaculate UFC returns to showcase the top past and present legends of the Octagon! Look for 3 autographs and 2 memorabilia cards per box, on average!
---
ABOUT THIS PRODUCT
2022 Panini Immaculate UFC
New in 2022 – Look for unique themed autograph sets in Immaculate Celebrations, Immaculate Legends and Immaculate Inductions!
Find an abundance of on-card autographs, including Rookie Memorabilia Autographs, Premium Memorabilia Autographs and All- Time Greats Signatures!
Chase jumbo prime memorabilia from an abundance of unique pieces of fighter-worn material, including shorts, walkout pants and gloves!
Look for authentic UFC fight/walkout-worn material swatches in UFC Fight Night Memorabilia!
 2022 Panini Immaculate UFC
Autographed Memorabilia Cards
Collect a variety of unique autographed memorabilia cards, including stunning Acetate parallels limited to 8 copies!
ROOKIE MEMORABILIA               PREMIUM MEMORABILIA           MEMORABILIA
AUTOGRAPHS GOLD                 AUTOGRAPHS ACETATE              AUTOGRAPHS GREEN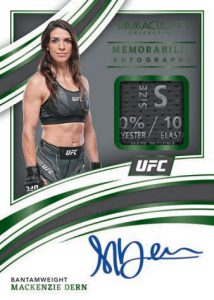 Autographs
Find a variety of on-card autographs from all eras of UFC!
IMMACULATE CELEBRATIONS       IMMACULATE MOMENTS     IMMACULATE LEGENDS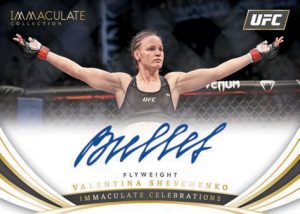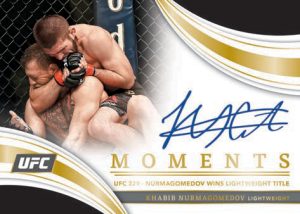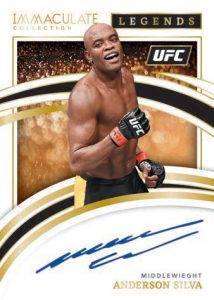 Memorabilia Cards
Look for more oversized memorabilia cards in 2022 Immaculate UFC!
UFC FIGHT NIGHT                   JUMBO MEMORABILIA JERSEY           JUMBO OCTAGON CANVAS
MEMORABILIA PLATINUM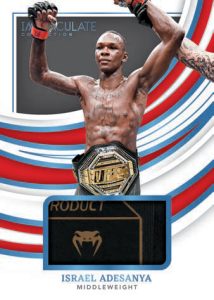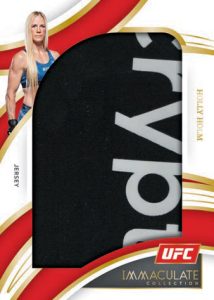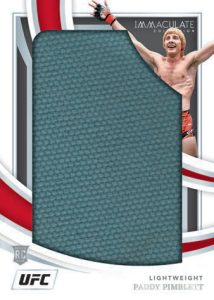 Hobby Configuration
6 CARDS PER PACK
1 PACK PER BOX
5 BOXES PER CASE
BOX BREAK
3 AUTOGRAPHS
2 MEMORABILIA