2023 Panini Donruss Baseball
Release Date: June 2, 2023
Donruss Baseball returns in 2023 with a set full of top prospects, Hall of Fame players, and legends of the game.
---
ABOUT THIS PRODUCT
2023 Panini Donruss Baseball
Look for an array of inserts including Marvels, Bomb Squad, and new Inserts like Mr.3000 and Cooperstown.
Collect autographs from rising stars and legends in Monikers, Signature Series, Superstar Scribbles and more.
Hunt for the ultra rare "The Mick" insert along with Naturals, Whammy, and Superstar Skylines.
Find 3 Autographs or Memorabilia per box on average.
2023 Panini Donruss Baseball
AUTOGRAPH SETS
Collect autographs from the the future stars of the game and the legends that paved the way for the future! 5 autographs sets are available to chase with Monikers, Retro 1990 Signatures, Superstar Scribbles, Signature Series, and Classics Autographs.
SUPERSTAR SCRIBBLES GOLD – SIGNATURE SERIES BLACK – CLASSIC AUTOGRAPHS BASE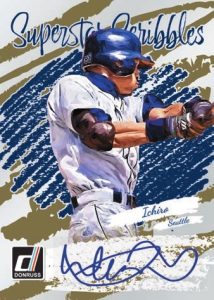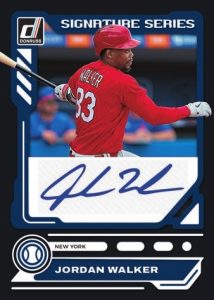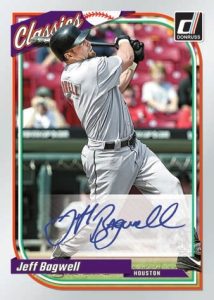 RATED PROSPECTS – INDEPENDENCE DAY
Rated Prospects includes a 60-card set of minor league players working their way up to the big club.
MR.3000 – GREEN
What needs to be said? This set includes legends who have collected 3,000 hits in their legendary careers.
COOPERSTOWN – BLACK
The best of the best who have been enshrined in the Hall for the rest of time! These players left their mark and have been immortalized in greatness.
MARVELS
Anybody watching is in for a treat when these players are on the diamond, true Marvels of the game.
PENNANTS
Being one of the top two teams means you have a special group of players. These players helped bring the Pennant to their ballpark and their loyal fans.
BOMB SQUAD – BLUE
Who doesn't love to hear the crack of the bat and watch a ball fly into the stands for a home run? These player made that happen, a lot. This set includes some of the best sluggers in history.
Hobby Configuration
8 CARDS PER PACK
24 PACKS PER BOX
16 BOXES PER CASE
Box Break
3 AUTOGRAPHS OR MEMORABILIA
24 HOBBY EXCLUSIVE HOLO BLUE PARALLELS
4 INDEPENDENCE DAY PARALLELS
1 LIBERTY PARALLEL