It's been an intense week of breaks. We started off the week with some special All-Star Game Triple Threads Special Breaks with giveaways and some fantastic hits. One of those hits was really appropriate for the All-Star Game. We've also completed our last batch of 2014 Heroes of Sport – Pre-War. A truly intriguing product with some incredible vintage cards and items. We also got a Beckett Submission back with some fantastic grades. And the newly released and extremely short-printed 2013-14 Panini Spectra Basketball gave us some really beautiful hits. So do not miss this weekly hit recap. Enjoy!
First out we got some football cards for you all. Two cards of the same player, the same parallel and the same amazing grade! 2014 Leaf Valiant – Derek Carr times two, gold parallel autos times two and BGS 10/10 grades times two! Wow! We also got one of the most wanted hits from 2012 Panini National Treasures. Russell Wilson – Rookie Signature Materials Gold! Fantastic!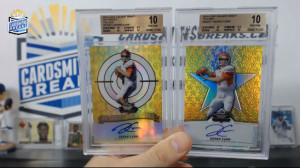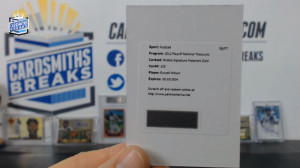 We also had the fortune of getting our hands on three cases of the newly released and limited 2013-14 Panini Spectra. One of the many low numbered hits from those cases was this beautiful looking Kris Bryant – Patch Gold 10/10. The mixers have been really popular the last couple of weeks and the reason why is kinda obvious. Especially when we get hits like this one: 2013 Topps Museum Collection – Roberto Clemente, Framed Oversized Canvas Collection Boxloader!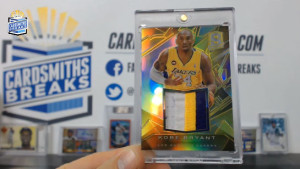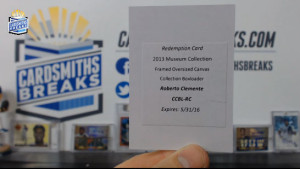 From the earlier mentioned beckett Submission we also had a great card with an even better grade. How about a 2014 Panini Prizm – Jose Abreu, Prizms Rookie Auto – BGS 10/10! We also had another awesome boxloader redemption this past week in 2013 Bowman Sterling: Clint Frazier, Austin Meadows, Hunter Renfroe, Billy McKinney. Phil Ervin & Aaron Judge – Oversized Autographed Boxloader!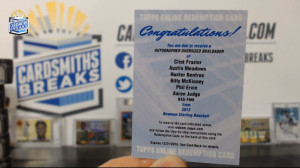 Lets move on to one of our mostly opened products. 2013 Topps Triple Threads. Just look at the insanity below! Two booklets! First a Cal Ripken Jr – Letter Booklet 1/3 and then, during the All-Star Game, we pulled this sickness: Gio Gonzalez – All-Star Patches Trifold Booklet 1/1. Insane!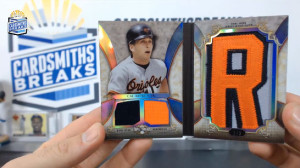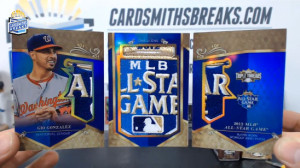 Did I just say we had two booklets from Triple Threads? I mean't to say three! but first we got a clean, beautiful and just stunning Yoenis Cespedes – White Whale Patch Auto 1/1! The third booklet was a real jawdropper. Just like the Gio All-Star Patches Booklet. Just look at it! Peewee Reese & Duke Snider – Dual Cut Auto Bat Relic Booklet 1/1! What?! Fantastic!

The last item in this glorious Hit Recap fro week 29 came to us in a case of 2014 Heroes of Sport – Pre-War. Babe Ruth & Lou Gehrig Dual Signed Baseball! You heard me. Babe Ruth & Lou Gehrig Dual Signed Baseball!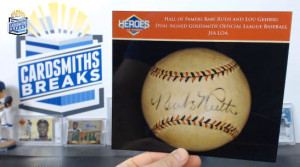 What an intense and crazy week of breaks. Fantastic work all around from you guys. This was truly a week to remember for a long, long time. Don't miss out on the upcoming week of breaks. We have many more hits to come so make sure you don't miss anything. Go to the Group Break Store for more information on available and upcoming breaks.