Tonight we had a special kind of night. Case breaks of all four major sports, Baseball, Football, Basketball and Hockey, plus a case of Iconic Heroes! We had some really sweet hits from all of the breaks but not every hit could qualify for the recap, unfortunately. The line-up for the night contained 2013 Bowman Chrome Mini Set, 2013 Bowman Draft Picks & Prospects, 2013 Bowman Inception, 2012-13 Panini Prime, 2013-14 Panini Court Kings, 2013 Panini National Treasures and 2014 Heroes of Sport Iconic Heroes Chapter 1.
We started off the night with a rampage of 2013 Bowman products, for the baseball portion, and in one of those cases we got this beautiful Clint Frazier Blue Parallel w/ Auto #/99 from Bowman Draft Picks & Prospects. A couple of breaks later we switched it up to Basketball and the new 2013-14 Panini Court Kings where we saw a bunch of great looking stuff with this sweet Michael Carter-Williams Auto as one of the many highlights: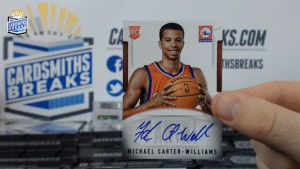 Just after our first Bowman break we snugged in a case break of 2014 Heroes of Sport – Iconic Heroes Chapter 1 and got these two really magnificent items. Cy Young Signed Envelope Dated February 11TH, 1947 along with Red Hot Chili Peppers Group Signed Drum Head!

For hockey we had selected 2012-13 Panini Prime, a choice that rewarded us in a grand scale. These two hits are just the tip of the iceberg. They are both Prime Colors Patches, John Tavares 3/21 and Ryan Malone 7/8. Just look at that lightning bolt!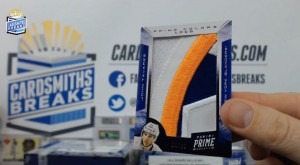 The night had to be rounded off in some way, and what better way than with a case of the brand new 2013 Panini National Treasures. Booklets, RPA's and other great stuff aside, this was one of the fancier hits from that case. Roger "Captain Comeback" Staubach – Notable Nicknames 5/10: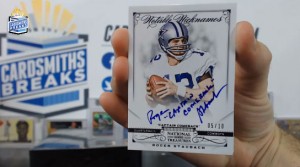 An awesome night that covered all of the four major sports, and some iconic heroes, came to an end with the anticipation of friday nights 2014 Topps Museum Collection Baseball case breaks. Make sure you get your team for tomorrows baseball extravaganza of the brand new release from Topps. Visit the Group Break Store for more details and purchasing.