Another awesome hit-packed night of breaks came to an end on the third day of april. With eight cases there was most certainly going to be alot of sweet looking hits. Especially when the cases were from such fantastic products as 2014 Heroes of Sport – Iconic Heroes Chapter 1, 2013 Topps Chrome, 2013 Topps Finest, 2013-14 Panini Court Kings, 2013-14 Panini Totally Certified, 2013 Topps Triple Threads and 2013 Panini National Treasures. Let's get cooking!
But first we just got to show these fantastic grades we got back from the BGS Submission. Both of these two were graded 9.5/10 and both were from 2013 Topps Museum Collection Baseball: Andrew Luck – Dual Relic Auto 7/25 and Joe Montana – Framed Autograph Silver #/20: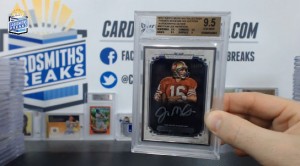 Another fantastic looking card we got back from BGS with a 9.5/10 grade was this 2014 Leaf Metal Draft – Johnny Manziel, State Pride Autograph Red Parallel #/5. Next to it we have a sweet looking RPA Gold Parallel of Jurickson Profar numbered 28/50 that we pulled from 2013 Topps Finest during the nights breaks: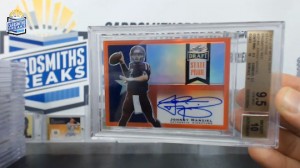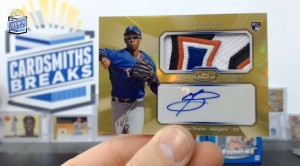 2013 Panini National Treasures is hot right now. Just look at these sweet hits we pulled. First we have a Tavon Austin – RPA Gold Parallel 28/49 and next to it we got the Keenan Allen – NFL Gear Triple Patch w/ Nike Swoosh and Laundry Tags, and yes, it's a 1/1!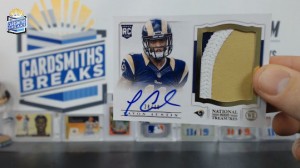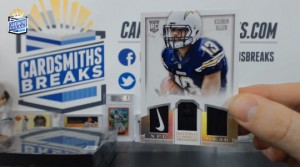 Last, but certainly not least, we got to these two 1/1's from the same case of 2013 Topps Triple Threads. Just to make it clear, we had two more 1/1's in the exact same case! They just didn't make the cut in this awesome hit recap. Enough rambling, here you go. Mike Napoli – All-Star Laundry Tag Booklet and, wait for it, Sandy Koufax, Hank Aaron, Stan Musial, Ken Griffey Jr, Cal Ripken Jr & Nolan Ryan – Auto Relic Double Combo Ruby Parallel! Read that again! Wow!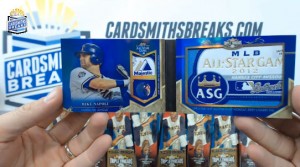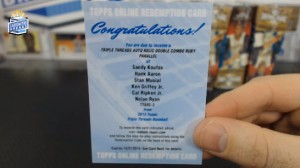 This night sure was a crazy one. An insane amount of fantastic hits, awesome grades from Beckett and the week is far from over! Tomorrow we got a calendar just slammed with case breaks. 2014 Press Pass Total Memorabilia Racing, 2013 Bowman Sterling Baseball "OWS", 2013 Bowman Chrome Mini Set Baseball "OWS", 2013 Bowman Inception Baseball "OWS", 2013 Topps Five Star Baseball and maybe even another half case of 2014 Topps Museum Collection Baseball. And who knows? Maybe even another case of 2013 Panini National Treasures! There will also be another case of 2014 Heroes of Sport – Iconic Heroes Chapter 1 posted on the site early friday that will break if it's filled. If it fills, we might have the time to do a second one aswell. You know the drill by now, go to the Group Break Store for more information and to purchase slots. Don't miss out on Cardsmiths Breaks Fantastic Fridays!