2022 Panini National Treasures FIFA Road to World Cup Soccer
Release Date: October 19, 2022
National Treasures returns to soccer on the Road to the 2022 FIFA World Cup! This worldwide program features 27 national teams from across the globe. Collect fan-favorite teams like Brazil, Germany, France and more.
---
ABOUT THIS PRODUCT
2022 Panini National Treasures FIFA Road to World Cup Soccer
Find a 200-card base set, including 2 subsets: Treasured Moments and Treasured Rookies. Look for all the top stars, special highlights and hot prospects.
Each card in the collection is numbered to 99 or less. Look for these parallels: Sapphire (#'d/25), Gold (#'d/10), Emerald (#'d/5), Platinum (#'d/1).
National Treasures is chock full of Autographs and Memorabilia. Hunt for the rare triple booklets and multi-autograph cards, one-of-ones like Brand Logo Autographs, and more. There are 8 memorabilia inserts, 8 autograph + memorabilia inserts and 9 autograph inserts to collect.
Printing plates return to soccer in National Treasures! 1 box per case will have an 11th card: a printing plate! Collect all four: Printing Plate Cyan (#'d/1), Printing Plate Magenta (#'d/1), Printing Plate Yellow (#'d/1), Printing Plate Black (#'d/1).
2022-23 Panini National Treasures FIFA Road to World Cup Soccer
BASE SET
The base set is the foundation of the collection. Comprised of 200 cards, there are also 2 subsets to collect.
BASE SET PLATINUM
Each base card is numbered to 99. There are also many parallels to collect, including the elusive Platinum (#'d/1).
TREASURED MOMENTS
The 2 subsets of the base set are Treasured Moments and Treasured Rookies. Treasured Moments highlights some of the most memorable and significant moments from international soccer.
AUTOGRAPHS
2022 National Treasures FIFA Road to World Cup™ features a plethora of autographs! Collect different inserts featuring signatures from some of the top footballers past and present.
PENMANSHIP                                              TIMELESS TALENTS SIGNATURES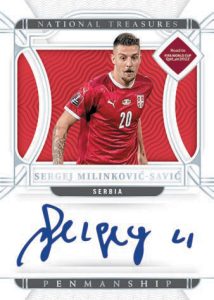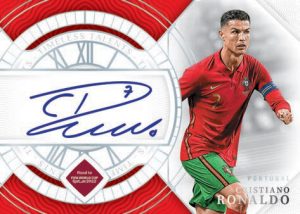 FRANCHISE TREASURES
Look for cards with pieces of authentic memorabilia. There are many memorabilia inserts in National Treasures. From Jumbo Swatches to Laundry Tags and everything in between.
BRAND LOGO AUTOGRAPHS
There are 3 Autograph/Memorabilia one-of-one inserts: Brand Logo Autographs, Treasured Tags Autographs, and Treasured Tags.
TRIPLE AUTOGRAPH BOOKLETS
Find 3 different multi-player Autograph/Memorabilia inserts: Autographs Dual, Triple Autograph Booklets, and Jumbo Triple Material Booklets. Don't miss these short-printed cards featuring sets of teammates and countrymen.
HOBBY CONFIGURATION
10 CARDS PER PACK
1 PACK PER BOX
4 BOXES PER CASE
BOX BREAK
8 AUTOGRAPHS OR MEMORABILIA CARDS
1 BASE CARD/BASE PARALLEL
1 ADDITIONAL BASE/PARALLEL/AUTO/MEM/ BOOKLET